Huawei rumored to build its own Tizen-based smartwatch
13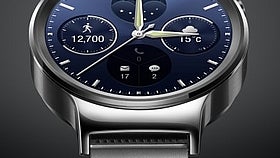 According to a new report published today in a daily newspaper from South Korea, Huawei is working on a Tizen-based smartwatch.
Unlike most other big mobile device manufacturers, Huawei hasn't been very active in the smartwatch industry in the past months. The last Huawei smartwatch was the appropriately named Watch, which launched back in late 2015. Since then, we haven't heard much of any future Huawei-made smartwatches.
While Huawei did not officially comment its position, a rumor dating a few months back quoted an unnamed Huawei smartwatch executive claiming that the company is waiting for component manufacturers to improve their products. In particular, Huawei was claimed to be waiting for smartwatch components to shrink further and for the processors to be more efficient before taking another aim at making a smartwatch.
If this new rumor from JoongAng Ilbo turns out to be accurate, Huawei is working with Samsung to create a smartwatch based on Tizen OS. Samsung leads the development of Linux-based Tizen and this Huawei-made smartwatch would be the first non-Samsung mobile device to use Tizen.
The report also claims that Huawei is unsatisfied with Google's position towards a closed Android Wear. Unlike with smartphones and tablets, Google restricts user interface personalization on Android Wear devices. Note that this isn't the first report to argue that Huawei is looking for Android alternatives; a few months back, a rumor claimed that Huawei is even considering making its own operating system. In the meantime, the report has been refuted by Huawei officials, but where there's smoke, there's fire.
On Samsung's behalf, a Samsung spokesperson did not confirm this information, claiming that no official collaboration request has yet been put forward by Huawei. Given the open source nature of Tizen, Huawei can work on a Tizen device without Samsung's official participation, this is far from a complete denial of the report.