Huawei prepping a slim 5.5" Honor 6X with metal frame and dual camera
2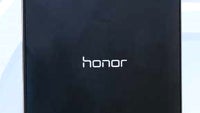 Huawei seemingly has a new Honor 6X phone in the making, and, judging from the purported specs, it is shaping up to be a flagship. The handset just appeared on the Chinese versions of FCC, complete with a 5.5" display stuffed in a relatively compact for the screen diagonal chassis - 150.4 x 75.68 x 7.5mm, though not LG G3-compact.
The Honor 6 is also expected to feature an aluminum side rim, an 1.8 GHz octa-core processor, likely of the company's Kirin make, 3GB RAM, and 32GB ROM, plus a microSD card slot.
So far so good, but the intriguing part here is that the listing pegs the phablet as sporting a dual camera with dual LED flash. Now, whether that means something in the realm of HTC's Duo Camera, which adds extra depth-of-field shenanigans, some 3D-trickery, or something else entirely, remains to be seen. The Honor 6X is expected to be announced by the end of the year, so not much more to wait and see what's that dual camera fuss all about.