Huawei plans to deploy 5G mobile networks in 2020, invest $600 million for research and development
4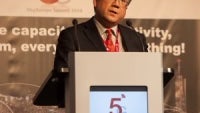 According to Huawei, the first 5Gmobile networks will be ready for commercial deployment in 2020,achieving 1000 times the capacity of current mobile networks and peakdata rates of over 10Gbps. Dr. Wen Tong, Head of Wireless Research andHead of Communications Technologies Laboratories at Huawei 2012 LAB,announced the estimate at the 5G@Europe Summit, held by the Chinesecompany in Munich, Germany yesterday.
Mr.Tong commented that "5G will have a fundamental impact on theICT (Information and Communications Technology) industry, and on ourquality of life" and stated that Huawei has been investing inthe next-generation networking standard since 2009, with recent plansto invest $600 million for research and innovation in the field. Thecompany believes that the 5G mobile networks and wide adoption ofconnected devices will result in 50-100 billion connections by 2020.
As a member of the European researchconsortium METIS, Huawei is one of the key contributors to theAdvanced 5G Infrastructure public-private partnership programme(5GPPP) defined by the European Commission. The company is feelingrather welcome in Europe, where it maintains large research anddevelopment centers, and finds opportunities, such as helping to deploy Sweden and Norway'sfirst commercial 4G networks.
source: Huaweivia FierceWireless