Huawei Pinnacle hands-on
2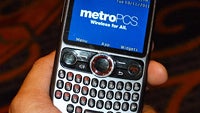 Alright people, if you happen to like your handset downright cheap, while still offering some easy-to-use messaging features, then you'll probably have a flare for the
Huawei Pinnacle
for MetroPCS. Even though we're seeing Huawei making its presence known with better built devices, like the AT&T Impulse 4G, they're simply going at full force with their usual approach by producing affordable phone.
From afar, the Huawei Pinnacle might look similar to one of RIM's entry-level BlackBerry models, but upon closer inspection, the thought is thrown completely out the door as we hold the handset in the palm of our hands. Interestingly enough, our thoughts quickly change as we find the handset relatively
solid in build quality
, which is attributed to its smooth plastic exterior and soft touch coating in the rear.
Taking prominence over other things, its
portrait style QWERTY keyboard
is surprisingly
responsive
with its raised and plastic feeling buttons – thus, enabling us to feel out keys individually with our fingers. On top of that, we love its sufficiently sized soft keys, send/end buttons, and circular looking directional pad. Unfortunately, its tiny sized display lacks any visual allure to capture our attention, which doesn't help when it has some seriously bad viewing angles.
Obviously, the platform experience is rather simplistic and conventional in execution as we're able to quickly find ourselves well suited in moving about its menus. Above all, one of the best things going on with the Huawei Pinnacle is its
$39.99 no-contract pricing
, which is especially enticing knowing you're not going to be tethered down to a contract of some sort.