Huawei Mate 20 Pro vs Apple iPhone XS Max: first look
8
Hate it or love it, it's hard to deny that the iPhone has a huge influence on all other phones: Apple comes up with a notch, and the others follow; Apple starts using face recognition and the others implement it in their phones too; Apple incorporates a new gesture navigation and you soon start seeing it on Android phones. And while Apple is no stranger to using good ideas from Android phones at times either, it seems that at least in terms of design, Apple leads and the rest follow.
Huawei has been one of the companies that not only follow Apple, though. It wants to overtake it. It has already done so in terms of unit sales, but it now wants to one-up the latest iPhone XS series with a contender of its own.
The Huawei Mate 20 Pro is the first phone to match Apple with a 7nm chip of similar power as the Apple A12 Bionic, it is the first phone to offer fast and reliable 3D face recognition as the iPhone, but then it brings something more to the table with a much larger battery, the fastest charging ever put on a smartphone, an exquisite design, an extra, ultra-wide angle camera, and advanced AI chops to glue it all together.
So let's see how the Mate 20 Pro compares to the iPhone XS Max in detail, starting with the specs right below.
Huawei Mate 20 Pro vs Apple iPhone XS Max SPECS
Specs
Huawei Mate 20 Pro
Apple iPhone XS Max
Short Description
Huawei's best; First Android phone with 7nm chip
The biggest, most productive iPhone ever, World's first with 7nm chip
Prices
from 1,000 euro (not sold in the United States)
from $1,100
Colors
Black, Blue, Twilight, Green
Space gray, Silver, Gold
Platform
Android 9.0 Pie with EMUI 9.0
iOS 12
Screen
6.4" OLED with notch, Quad HD+ (1440 x 3120px)
6.5" OLED with notch, 1242 x 2688px
Chip
Kirin 980, First 7nm chip on Android
Apple A12 Bionic, World first 7nm chip
RAM
6GB / 8GB
4GB
Storage
128GB / 256GB / 512GB with microSD
64GB / 256GB / 512GB, no microSD
Cameras
Rear: 40MP f/1.8 main shooter +
20MP f/2.4 ultra-wide 16mm +
8MP telephoto with OIS
Front: 24MP
Rear: 12MP f/1.8 main shooter +
12MP f/2.4 telephoto 2x zoom
Front: 7MP
Battery
4,200 mAh with 40-watt super fast charging
3,179mAh
Extras
IP68, Fast wireless charging, face recognition
IP68, Fast wireless charging, Face ID
Cameras
Incredible cameras, and lots of them.
The Mate 20 Pro features a prominent, square-shaped camera array that slightly protrudes out its the back and gives it an unmistakable look, while the iPhone XS Max comes with a dual camera module that bulges out more and is positioned on the side.
But what are all those cameras for? The main shooter on the Mate 20 Pro is a 40-megapixel one with an f/1.8 aperture, and then you have an 3x zoom 8MP telephoto lens (the only one that comes with optical image stabilization on board), and finally, a third, 20-megapixel 16mm ultra-wide angle camera is here to enable some spectacular landscape and macro shots. The iPhone, on the other hand, has a main, 12-megapixel f/1.8 camera with a 26mm angle and another 12MP telephoto shooter with 52mm focal distance for a 2x optical zoom.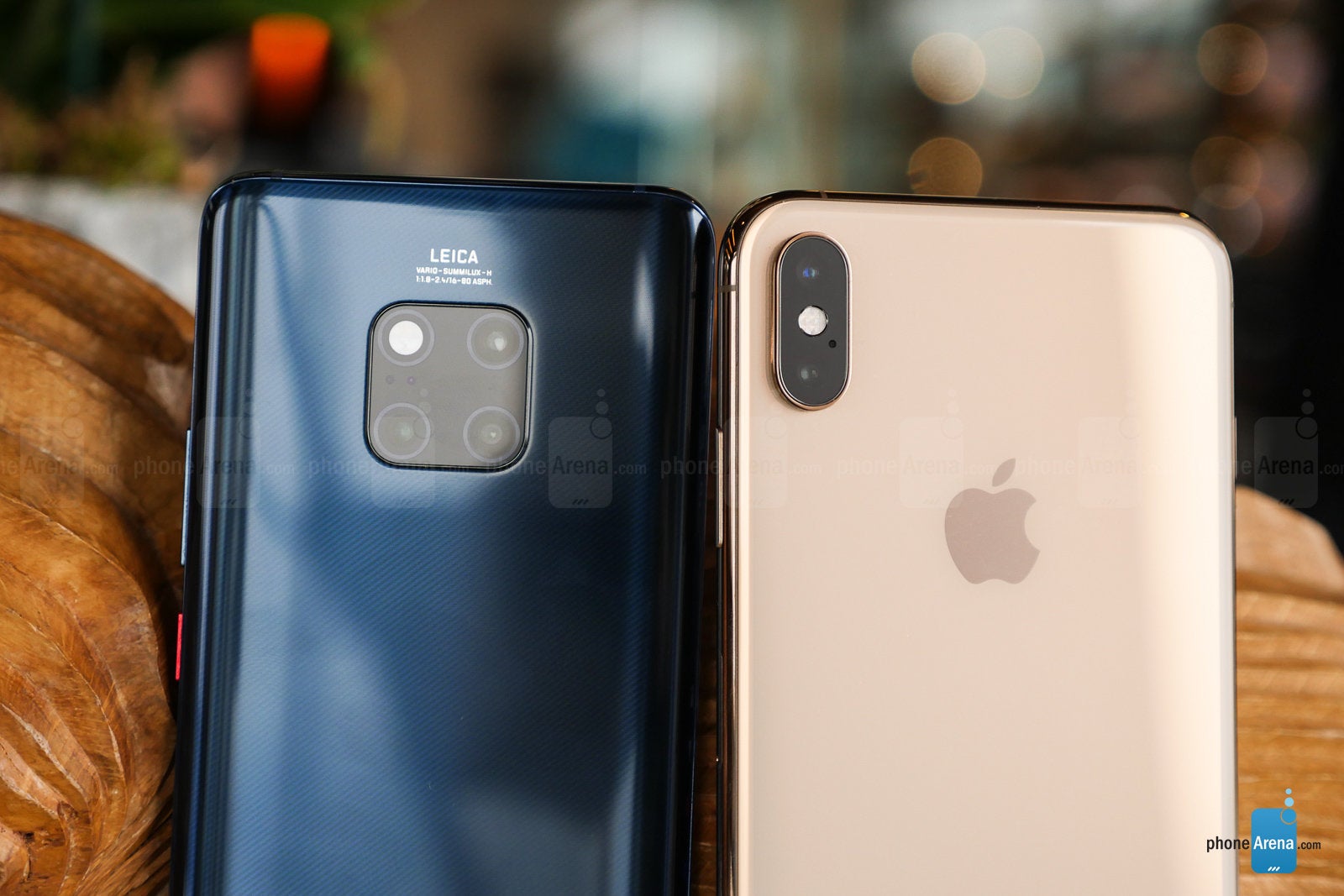 These days, camera quality is a lot about software algorithms and not just the sensors. For the iPhone, it's all about the new Smart HDR feature that comes enabled by default and delivers an incredible dynamic range with the familiar balanced and slightly warm iPhone colors.
The Mate, on the other hand, emphasizes its improved AI chops. It can now recognize up to 1,500 different scenes and optimize your shots for them, but then also AI now works in video too. The Mate can recognize not just contours, but whole shapes and even objects. A brilliant example comes in the new video filters, where one allows you to have color in the people in your footage, while the background remains black and white. And this is for moving images! AI is also used for real-time motion tracking, so the Mate can recognize your toddler in a video and keep it locked in focus. For video creators, the Huawei phone now also comes with native support for the cinematic, 21:9 format, and it features various color profiles that you can apply to your videos, much like LUTs in professional video editors, while the iPhone relies on third-party apps for all of that.
Performance & Storage
The first phones in the entire world to have a 7nm chip
The Mate 20 Pro features Huawei's in-house Kirin 980 chip, while the iPhone XS Max uses the Apple-made A12 Bionic SoC. While the two chips are very different in their architectural design, they share one big thing in common: these are the only phones in the world featuring the new, 7nm manufacturing process, which is a big leap over earlier chips.
Both feel very snappy in terms of daily operation: apps open swiftly, the two phones respond quickly to every tap and performance is overall smooth on both. Does the Mate match the buttery smooth feel of iOS? Sometimes yes, but sometimes not quite, and this is especially evident once you enable the new gesture navigation system on the Huawei phone.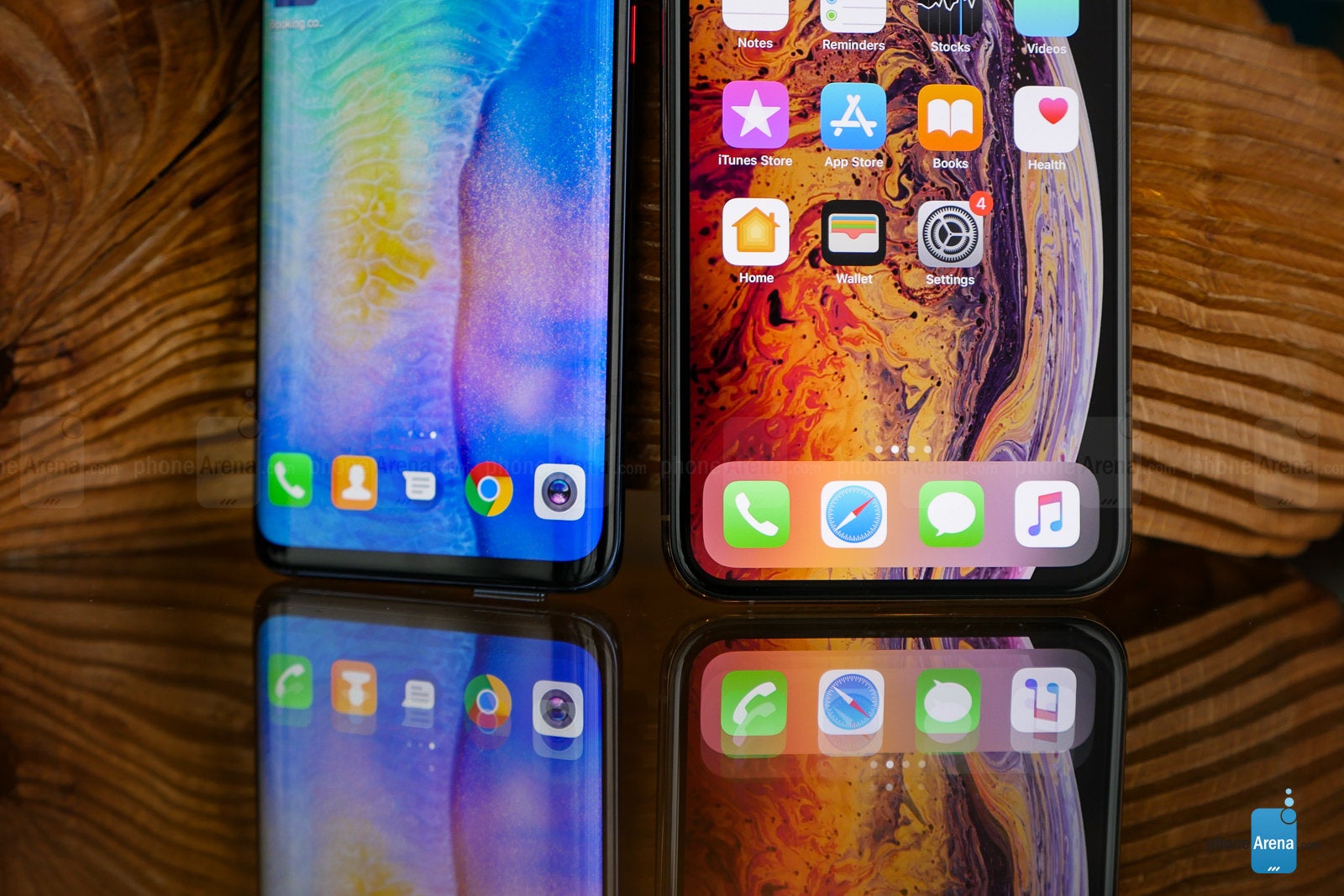 Face ID wars
Face recognition seems to be the future, but the Huawei also has an in-screen fingerprint reader
The Mate 20 Pro has a prominent notch with a similar size and shape to that of the iPhone XS Max, and it's actually justified: it holds a similar 3D face recognition system like the iPhone has with a dot projector, flood illuminator and an infra-red sensor that work together to create a detailed map of your face.
We tried this new face recognition method on the Mate and were impressed with the speed and accuracy, so we quickly set it as the default unlocking method. Our initial impressions are that it is about as fast, or even slightly faster, than the iPhone, but we'll test this in more detail in our final review.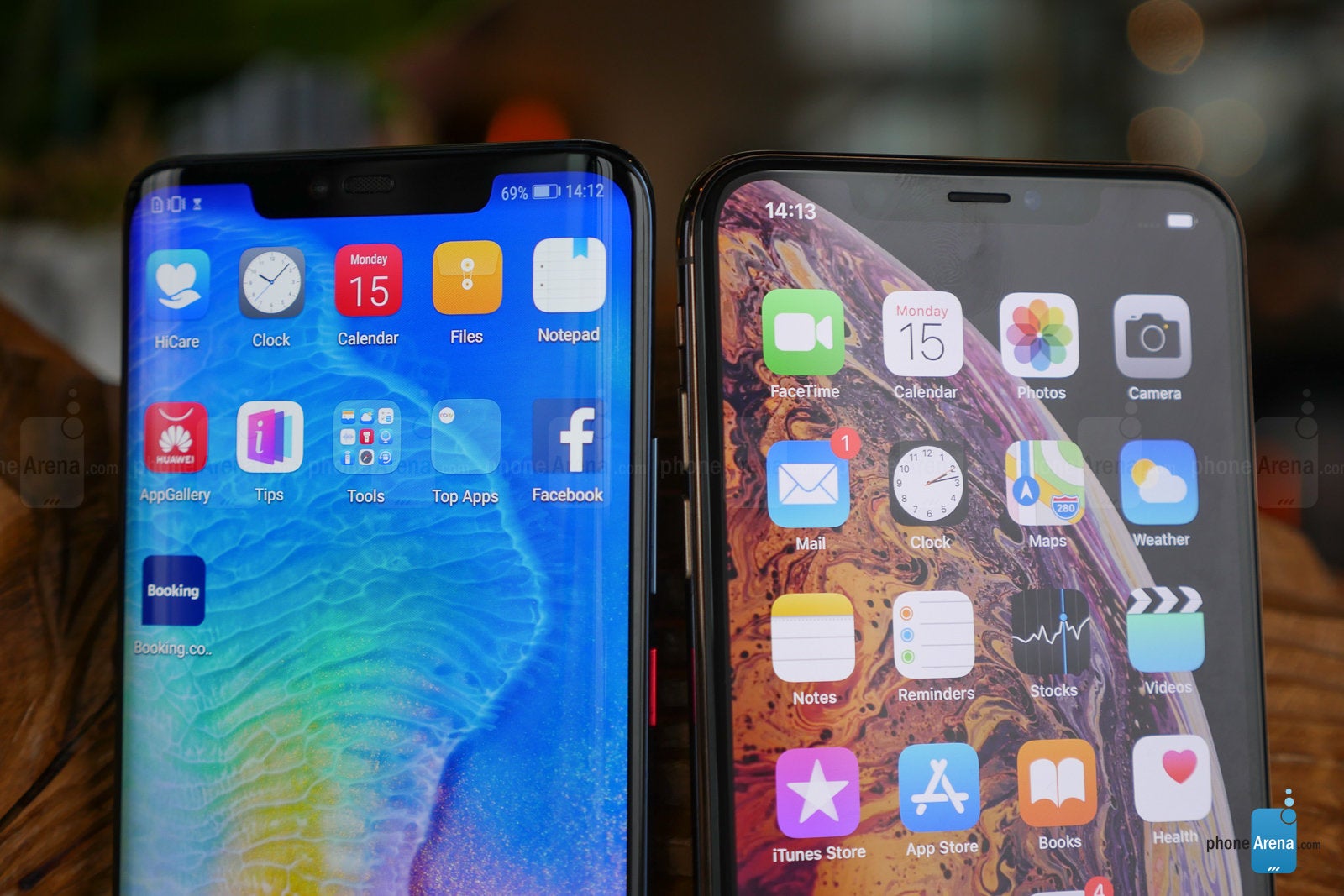 What's great about Android, however, is choice, and in the case of the Mate 20 Pro this plays in the form of a fingerprint scanner in addition to the new face identification. But it's not just any fingerprint scanner: it's a fingerprint reader embedded under the display, so you just place your finger about in the middle of the screen and the phone magically unlocks. Well, magically might be a bit of a stretch, as it takes a noticeably longer time for the screen to unlock when compared to a traditional fingerprint scanner and you kind of have to hold your finger on the spot for a second rather than just quickly tapping it to unlock. We found it a bit too slow, but again, we would need more time for proper evaluation.
Battery life
Huawei steals the show with super fast charging
It's foolish to say that battery size alone determines the actual battery life of a phone, but it's just as foolish to deny its role, so that's why we were thrilled to see a massive, 4,200mAh battery cell in the Mate 20 Pro, much bigger than the 3,179mAh battery on the iPhone XS Max.
Huawei is so confident in the battery longevity of the new Mate 20 Pro that it has made it possible to use your phone as a wireless charger. Literally! Enable the feature in battery settings and whenever a friend's phone is running out of battery, you can just place the two phones back to back and the other phone will draw charge wirelessly from the Mate 20 Pro! There will be some limits (so that you don't end up actually killing your own battery while you charge another phone), and this will obviously only work with other phones that support wireless charging, but it's a rather cool trick. And yes, you can charge the iPhone XS Max with a Huawei Mate 20 Pro!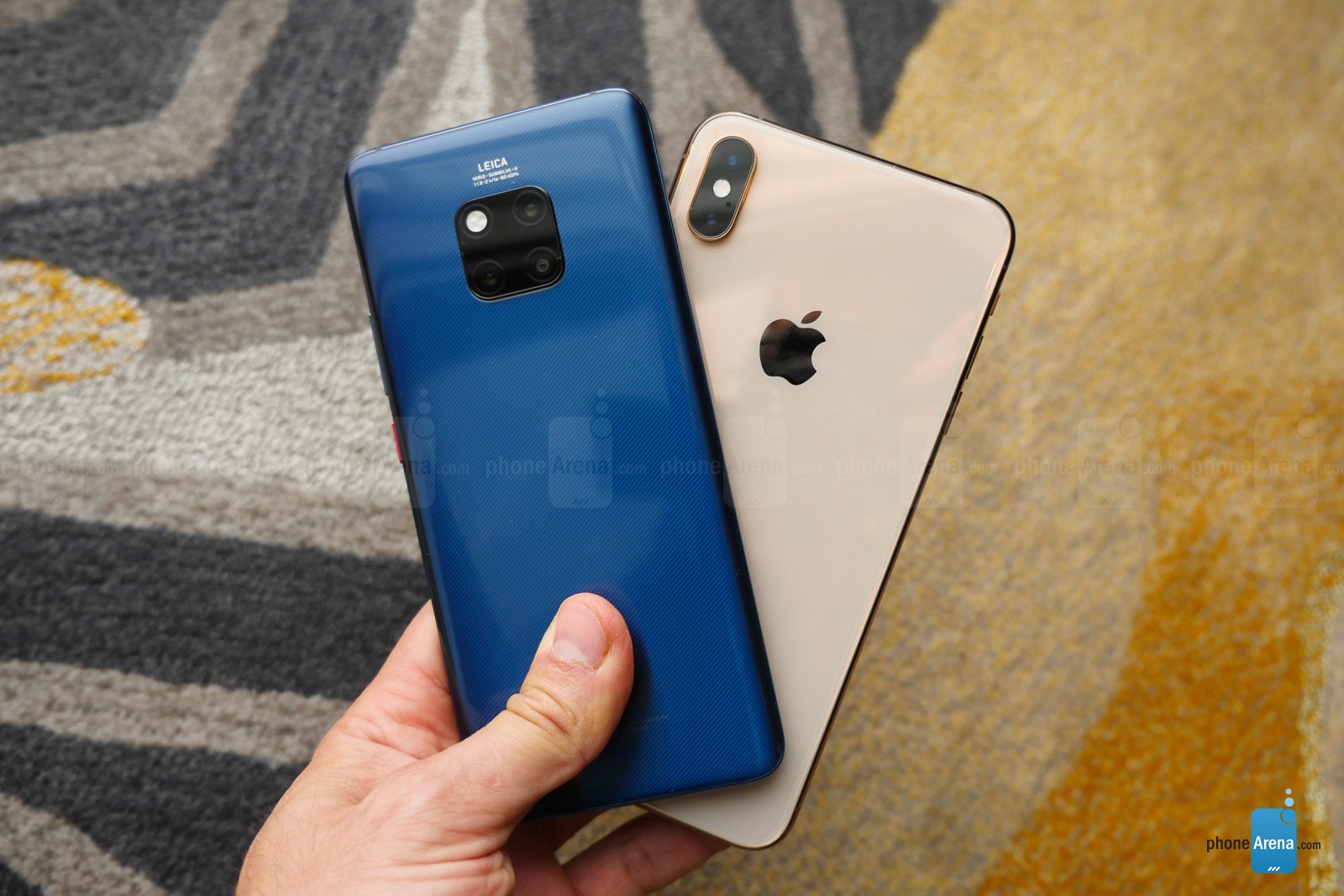 While both the Mate and the iPhone support fast charging, Huawei really takes it to the next level with its 40-watt SuperCharge wall charger that comes included in the box. It's a shame that the more expensive iPhone still does not include a fast charger in the box and you would need to spend the extra cash to purchase one separately. Both phones also support wireless charging, but again, the Mate 20 Pro is the faster one here with speeds of up to 15 watts. The iPhone XS Max, on the other hand, supports wireless charging of up to 7.5 watts. These are the same speeds as on the iPhone X/8 series, but the difference is that Apple is using 100% copper wireless pickup coil which is more efficient than the mixed-alloy coil used in last year's models, in case you wondered. For both phones, you would need to separately purchase a wireless charger, as those do not come included in the retail box.
Price, Release date and Final Words
Times are changing, and the best way to tell that in the tech industry is to look at the surging prices of phones. These two are prime examples: the Mate 20 Pro is Huawei's most expensive mainstream phone going for prices north of 1,000 euro, which is more than the Samsung Galaxy Note 9, but less than the iPhone XS Max, which starts at a price $1,100 in the US.
Unfortunately, Huawei phones are banned from selling in the United States, so you can only get them elsewhere or import an unlocked model, but you won't find the Mate 20 Pro at US carriers.
Finally, when it comes to release dates, the Mate will start shipping on October 16th, while the iPhone is already available on store shelves.
We really like a lot of the improvements in the Huawei Mate 20 Pro and feel like this is the best phone that Huawei has made with a more simplified interface, efficient gesture controls and a stunning design, not to mention the excellent battery life and cameras. Should you but it over the iPhone? This one is up to you, so let us know your thoughts in the comments right below.