Huawei tries to steal Apple's thunder with three Mate 20 Pro teasers
45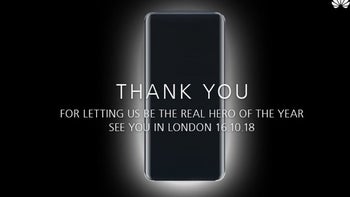 Unsurprisingly, Apple has been dominating the headlines today in the lead up to and following the announcement of the new
iPhone XS and XS Max
, and
iPhone XR
, but one particular rival doesn't seem too pleased about it.
During Apple's event earlier on today, Huawei, which
recently overtook Apple
as the world's second largest smartphone manufacturer, suddenly became rather active on its official Twitter account by tirelessly promoting the benefits that come with owning a Huawei P20 or
P20 Pro
. As Apple's event neared its end, though, the Chinese company took things a step further by tweeting out three Mate 20 Pro teasers.
Starting off with the first one, the background of the image depicts a light shining onto the
upcoming Huawei Mate 20 Pro
model, confirming, in the process, the curved edge display that has been rumored for quite some time now. On top of this image, "Thank You" can be seen in big, as can the words "For Letting Us Be The Real Hero Of The Year" just below. The company also references its
October 16 event
in London.
Huawei's second teaser was slightly more boring yet still managed to take direct aim at Apple by depicting a person running inside a circle, which suspiciously resembled the image included in
Apple's event invites
, before running off and thanking its fans for supporting them as "innovators." Lastly, the company posted yet another video teaser that hints at a wide range of colors and a focus on artificial intelligence. Additionally, it appears to indirectly thank Apple for "keeping things the same."

Overall, Huawei's efforts to distract away from Apple's news today probably won't be that effective. But it is fair to say that the brand's next flagship smartphone is certainly shaping up to be quite impressive.