Huawei's 5G phone just got dropped by two major UK carriers
14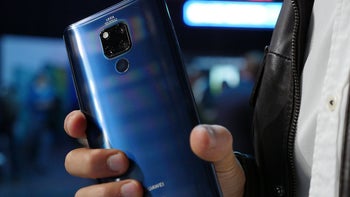 Over the course of the past few days, multiple companies have cut ties with Huawei. This, in turn, is starting to affect the brand's smartphone sales across Europe. And now, two major UK carriers have put plans to release Huawei's first 5G device on hold.
During a press conference earlier today, EE
announced
that its 5G network – the UK's first – would be going live next week. At launch, the carrier will be offering a small range of devices that includes the Samsung Galaxy S10 5G, OnePlus 7 Pro 5G, LG V50 ThinQ 5G, and the Oppo Reno 5G. Originally, the Huawei Mate 20 X 5G was also meant to be on this list, but the carrier announced this morning that the phone's launch has been put on hold due to the uncertainty surrounding the current situation.

According to EE, Huawei's 5G offerings won't be launched until it receives "the information and confidence" that customers who purchase the smartphones will be supported "for the lifetime they've got the device."
Serving as an additional blow to Huawei, UK carrier Vodafone also
announced
that it will be putting Huawei Mate 20 X 5G pre-orders on hold for the time being. The company stated that it "is a temporary measure while uncertainty exists regarding new Huawei 5G devices."

Other European carriers are yet to announce their stance on the matter. But with Huawei currently unable to sell 5G devices on the UK's two biggest carriers, this could be a brilliant growth opportunity for Samsung, LG, and OnePlus, in addition to Oppo, which only recently arrived in the UK.