How to unlock the full potential of our vast phone specs database
5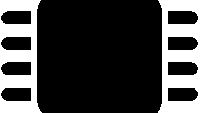 Does the Samsung Galaxy S5 have 2GB or 3GB of RAM? Will that variant of the iPhone 6 work with my carrier's LTE network? Can I expand on the built-in storage of the Nexus 5? These are all variations of questions that every smartphone user on the planet asks himself at one point or another. There are just so many variables that even we aren't completely sure about this or that detail when asked. As you can guess, that's where our vast phone specs database comes in.
But are you making full use of it? Chances are, if you're long-time PhoneArena reader, you'll know about a few of the more inconspicuous tricks it has up its sleeve, but there are no guarantees that you know them all. We're changing that, and today. Let's start with the more obvious stuff.
Access the full version of our specs sheets
If you go ahead right now and check out
the LG G3's specs sheet
, what you'll be presented with is a (comparatively) concise list of features and hardware details for LG's finest. But did you know that there's a fuller, more complete version of that same page? That's right, if you scroll down to the very bottom of the specs sheet, you'll see a grey button that lifts the curtain and gives you a number of extra details, some of which quite handy. For example, you can check out the placement of the power and volume keys, find out whether the phone's front-facing camera does 1080p video, and even learn about the various SAR levels (radiation) you'll be exposed to when using any given device.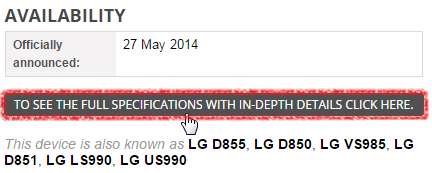 Understand what these specs mean in the real world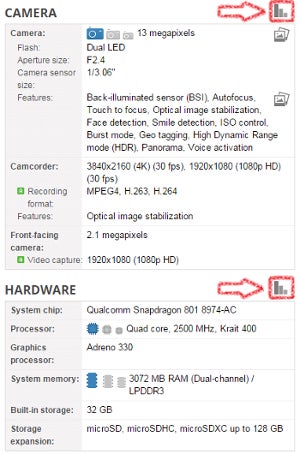 Not all of us are experts on smartphones, and dry specs can sometimes yield little useful information. Oh, that phone has a Snapdragon 801 processor! But is that any good? And how does it compare with other smartphones? What about the battery – the iPhone 6 has a considerably smaller battery, but also a less pixel-dense display than the Galaxy Note 4– does that make it a better marathoner Samsung's phablet? Our phone specs database will give you quick answers to these questions, though, obviously, you should seek more detailed analyses if you're looking for a more thorough answer.
How? It's simple – every phone that has undergone a detailed review will have a button on top of each category's box with a link to the relevant information. For example, clicking on the button above the 'Hardware' section will guide you to the specific performance benchmark results, while doing the same with the one above 'Camera' will provide you with our the results of our custom camera speed benchmark.
Similar test results are also available for the display, camera, and speaker loudness.
View screenshots of various phone features and camera samples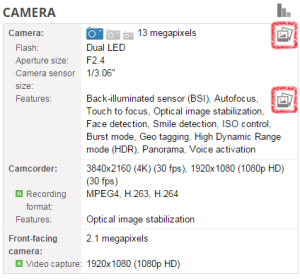 If you stumbled upon a given phone's database on our site whilst researching it, you may sometimes require more than just dry specs. As of 2014, our sheets now include hyperlinks that lead to floating galleries (so you stay right where you were, no re-directing) that give you even more details about a given device. For example, if you click the little grey button next to the 'Camera' field, you'll be able to see all the photo samples we took with it. If you click on the button opposite the "Features" field, however, you'll get screenshots of the actual camera interface.
Similarly, you can get screenshots of the general UI (homescreens, app drawers, notification bars), the browser, multimedia apps, phonebook, messenger, e-mail, and others. All of this is very convenient if you're looking for something specific and don't want to commit to digging out just that specific part from our in-depth review.
Miscellaneous functionality
Our phone specs database contains a few other slivers of functionality that you may want to tap into at one point or another.
For example, did you know that you can download the official manufacturer manual for the device you're looking at by accessing a hyperlink from the drop-down menu on top? You can also get detailed information on the exact date a device was released on any of the major US carriers, seek out all news that are related to the phone in question, and access ours and users' reviews, and many other relevant comparisons from the two score bars and the 'Links' pane respectively