How to remove Chrome tabs from your recent apps list (Android 5.0 Lollipop guide)
7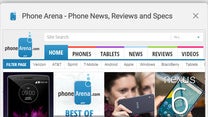 In general, people don't like change; what we're familiar with makes us comfortable. That's why breaking an old habit takes quite a lot of effort, even when it is for the better.
And speaking of changes, Android 5.0 Lollipop brought a truckload of them to millions of Android users. Some of these changes were more than welcome, others – not so much. For example, many are complaining about Google removing the plain old silent mode and forcing them to use the new Priority Mode instead. Furthermore, not all are happy with the redesigned app switcher, which now feels a bit more crowded than it used to.
Another Android 5.0 Lollipop tweak we're sure some won't be happy with is the way Chrome tabs are being handled. In previous Android versions, Chrome tabs were accessed from within the app itself – open it up, and a button in the upper right corner let you access them in a neatly-organized list. Now that Lollipop is here, however, Chrome tabs are all merged with your recent apps list, also known as Android's Overview screen. That's not a terrible solution as it lets you get to a specific tab more quickly, but if you prefer the old-school method, there's a solution. A very simple one, as a matter of fact.
Here's how you bring Chrome tabs back into the app and out of your recent apps screen:
Open Chrome
Open its menu by tapping on the three little dots in the upper corner
Hit Settings
Open "Merge tabs and apps" and switch it to "Off"
At this point, Chrome will restart and behave as it used to prior to the Android 5.0 update. Simply repeat the steps above to make Chrome tabs appear along with your recent apps again.