How to recover Messages access and prevent your iPhone from crashing after today's hack
16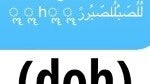 Did you hear what the cool kids are doing with their iPhones now? Didn't you hear? Rebooting someone's smartphone and crashing their Messages app by sending an obscure line of symbols iOS can't interpret
is all the rage nowadays
! Lucky for all those affected, the workarounds are rather simple and will keep your iPhone going until Apple patches up the messy situation.
Don't be hard on Cupertino, though - debugging software is tricky business, and this has to be, literally, the most obscure exploit in the history of exploiting iPhones! Seriously, it took 8 years to discover one can brick iOS with a string of unicode characters? Great, have the world's slowest handclap! Anyway, check out the solutions in the slideshow below. We express our sincere hopes that you won't have to mess around with them. Special thanks to
Neal and Nelson at WonderHowTo
for sharing the plan!