How to quickly turn on the flashlight (using the power button) on Android
9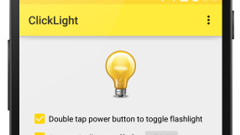 Having the ability to turn your smartphone's flash into a flashlight can be very useful at times. Even Google acknowledged this, and added a default Flashlight app in Android Lollipop. While Google's Flashlight can be accessed pretty quickly, you still need to tap your screen to do it. Thankfully, there's a faster way to turn the flashlight on, without touching the screen at all - thanks to a new app called ClickLight.
Developed by TeqTic, ClickLight lets you turn on the flashlight just by pressing the power button twice. The screen can be either off, or on - it works in both cases. Conveniently, pressing the power button twice will also turn the flashlight off. In a way, this app transforms your smartphone into a genuine flashlight, being the fastest of its kind (and the easiest to use, from what we can tell). While ClickLight can be downloaded for free via Google Play - see the source link below - you can also pay $0.99 to access an extra function: changing the time after which the flashlight automatically turns off (the default is 1 minute).
You don't need to have a handset that runs Android Lollipop to use the ClickLight app. Theoretically, this works on any device (with a flash) running Android 3.0 or later. It's been confirmed that the app works on many handsets, including the Nexus 6, Nexus 5, Nexus 4, Samsung Galaxy S5, LG G3, LG G2, Motorola Droid Turbo, Motorola Moto X, Motorola Moto G, Sony Xperia Z3, OnePlus One, and others. Some bugs may be encountered on the Samsung Galaxy Note 4 or the HTC One (M8).