How to make full use of our phone size comparison tool
6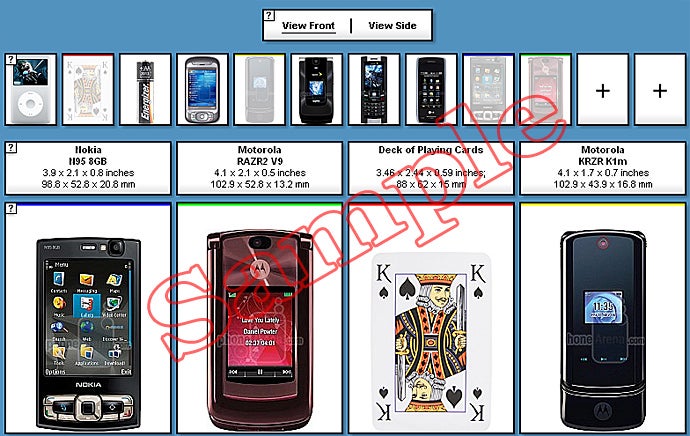 The first version of PhoneArena.com's phone size comparison tool, c. 2007
Did you know that
our size comparison tool
made its debut all the way back in 2007? Back then, it had no analogue – at least not one that offered actual phone images instead of rectangular boxes that only approximated a device's size. Some 7 years later, this tool is still as handy as ever.
Are you making full use of it, though? Chances are, if you're a PhoneArena regular, you'll know about the extras the tool offers, but not necessarily if you only occasionally call on it. Today, we'll be showing you all that it offers so that you can make the most out of it.
Calibration
Probably the most important part of our size comparison tool is the calibration step. You don't
need
to do it, per se, but if you do, you'll be looking at 100% representative, up-to-scale device dimensions on your monitor. In simpler words, any given device will be as big in real life as it appears on your monitor (whatever the display size or resolution). To calibrate your monitor, you'll need either your phone or a credit card and then to tweak their size so that they match their real life embodiments. See the steps below.
So long as you're using the same browser from the same IP, our site should remember your calibration profile. From then on, every time you use the size comparison tool, the devices will appear to scale.
Layered view and reshuffling
Our phone size comparison tool has two other features. The first one, as you must have gleaned, is the so called Layered View mode. Just click the green button (as seen below), and the phones you're comparing will be arranged on top of each other. Handy when the size differences between devices are small, or when you're comparing more than three devices at a time (our tool fits three devices per line at maximum).
Another useful feature is the ability to reshuffle the order of the phones without having to remove them and re-enter them. Just click on the image of a phone and drag it to a new position. Lastly, keep in mind that the name of the phones in bold (under their respective dimensions) are links to our specs database. Clicking on them will get you right to that particular device's specifications sheet.