How to install the new Google launcher and apps from Android 4.4 KitKat (keyboard, Hangouts, camera, wallpapers)
50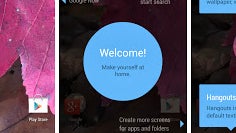 The new Google Experience Launcher in
Android 4.4 KitKat
comes with a bunch of improvements over the previous stock version. There is a new color scheme, new icons, new default apps and new functionalities like the ability to evoke Google Now with a simply swipe gesture on the homescreen.
Wallpapers
go full screen now, and if you sport something like the
Nexus 5
, you will be able to call Voice Search directly from the homescreen by just speaking out "OK, Google". If you are interested to take it for a spin, here are the three APKs you have to download and install:
If Google Search force closes on you when you try to use it, try changing the search language, reboot, start the new launcher, then go back to the language of choice you had initially. Users are reporting the least troubles with this procedure on the
Note 3
, so if you are a lucky owner, you can give it a try.
As for the new Hangouts app that threads your IM, text and MMS messages together, the new 25% more accurate Google Now, the new keyboard with Emoji, the new Camera app and the wallpaper collection, click on the links below to get them: