How to install the Jelly Bean apps on an ICS smartphone
32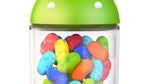 Android 4.1 Jelly Bean has been available to manufacturers and developers for quite some time now, but that doesn't mean that it can be found on many handsets. Actually, Jelly Bean is still a rarity in the Android ecosystem, reserved mainly for those sporting a vanilla Google experience device. Still, there is a way to get some Jelly Bean action right here and now, if you are a proud owner of a 4.0 Ice Cream Sandwich-running device.
What we want to say is that you can install many of Jelly Bean's system apps on your device and start using them right away. Many of them feature various enhancements that aim to improve your experience, so it's always good to have them, rather than those of an older Android version. Here's the full list of apps that you can get:
Email Client, Face Lock, Gallery, Gmail, Google Books, Google Calendar, Google Currents, Google Ears, Google Earth, Google News, Google Magazines, Google Maps, Google Music, Noise Field, Phase Beam, Google Play, Google+, Street View, Talk Back, Video Editor, Videos and Google Wallet
.
Quite a list, eh? So, if you happen to have some free time and feel that urging need to tinker with your device, why don't you go ahead, read through our how-to and start enjoying the Jelly Bean awesomeness? But first, keep in mind that to be able install these apps,
your device needs to be rooted
and have
ClockworkMod Recovery
installed. Also, a small number of the apps may not really work correctly, because, after all, you're not running the OS they were designed for, but according to the user responses on XDA, most apps do work just fine. You should be able to install these apps on any ICS-based ROM.
NOTE:
If you aren't that experienced in hacking the software of your Android device, then you'd better read some more about the subject, get yourself up to speed, and then return to this post, for a piece of the Jelly Bean... cake? Also, note that we're not responsible for any bricked or damaged devices. Yes, it is always possible to brick your device if you do something wrong.
Anyways, without further ado, let's take a look at what you need to do in order to have those cool JB apps up and running on your ICS device!
How to install the Jelly Bean apps on an ICS smartphone
1.
Download the Jelly Bean apps from
here
.
2.
Connect your phone to your computer via USB cable and transfer the JB apps archive to the root folder of your mobile device.
3.
Disconnect your phone from the computer, turn it off, and then boot it into ClockworkMod Recovery.
4.
With your device in Recovery mode, select "Install ZIP from sdcard", and then "Choose ZIP from sdcard". Select the Jelly Bean apps file to begin installation.
5.
Once the installation is complete, choose the "Reboot system now" option.
6.
This should do it. When the device boots up, you should have all these lovely Jelly Bean apps to play and work with.
For more details and developer comments, feel free to visit this
XDA thread
.