How to: get the best of Moto X on your Android right now
13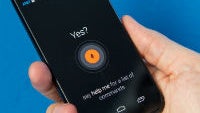 These are the sorts of things that make us really love Android. Every time a device is announced that has compelling new features, likelihood is that you'll find apps that try to emulate those features come out in the Play Store very quickly, assuming they don't already exist (and many of them do). This time around, we want to let you know how you can give your Android device the best features of the Moto X right now.
Of course, before we get into it, we should mention a couple of things. First, not all of the app alternatives will give you the same exact functionality that you would get on the Moto X, we're just aiming for a close approximation. Second, your device won't have the companion cores that the Moto X does to help keep power usage to a minimum, so always keep an eye on how much battery life is burned by having some of these options on.
That said, let's get to the three main features that you'll find on the Moto X:
Touchless Control
The app that you can get right now to simulate the Touchless Control feature of the Moto X is probably one of the best apps that you can get for your phone anyway, and it's an app we've
talked about before
. The app is called
Utter!
and it is was made by Ben Randall. The app can do just about everything that you'd find in Google's Search app, and it can also perform extra tasks like toggling Bluetooth or Wi-Fi, bringing you right to a settings page, reading the text you have in your clipboard, and more.
Of course, in order to replicate the Moto X's Touchless Control, it also has to be able to "always listen" and respond to a wake phrase to activate, and Utter! can do that as well (but definitely keep an eye on your battery drain with this feature activated). Unlike some other apps that you'll find that can do this, Utter! can even wake up your device from standby with the activation phrase, so you really don't need to touch your device. Many other apps will at least make you wake the device yourself.
One thing that Utter! is missing is the Knowledge Graph questions that you can ask Google, like "Who is Mutabaruka?" or "How tall is the Eiffel Tower?" The app info says that Knowledge Graph searches are "coming very soon", but in the meantime, you can always just ask Utter! to "Open Google Search", then trigger Google Search with the "Google" keyword activation. It's a bit roundabout, but if you really don't want to touch your device, that's the best we can offer.
*Update*
Utter! has been updated
since this piece was originally written. It now offers access to Google Now, and it has added Knowledge Graph question support. The always listening with Utter! now supports the standard keyphrase "wake up" to initiate an Utter! command, but you can also say "Okay Google" in order to launch straight into Google Now for searches or Google's voice commands.
Utter! is free and compatible with all devices running Android 2.3 and up.
(Also note that the video available to demo Utter is a bit old and the app has gotten new features since then.)
The other option to get Touchless Control-like functionality on your device is to use an app called
AutoVoice
, which is actually an extension for Tasker. So, you should really only try this option if you are a bit more of a power-user, because Tasker can be a daunting app. This option also comes at more of a cost because Tasker will set you back $2.99, and AutoVoice is free, but there is a full version for about $1.57.
If you aren't intimidated by Tasker, this option allows you to do some pretty crazy things, because Tasker is an incredibly powerful application. The way AutoVoice works is that you can execute any Tasker task at any time without using an activation phrase. So, if you are a Tasker user, this may be the best option for you. You can use it to launch Google Now for the basic functionality, or you can have it do much more advanced tasks, and even home automation, as you can see in the video below.
Quick Capture
The next feature that you can simulate is Motorola's Quick Capture function, which allows you to twist your device twice in order to launch the camera. For this to be done, you can grab an app called

Twisty Launcher

. As the name implies, it can be used to have a movement gesture launch an app, including the camera. One downside to this alternative is that you will need to at least unlock your device, as the app will not wake it for you. Also you will have to enable lock screen gestures, but if you do that, as long as your device is awake, you can use the app as normal.
Twisty Launcher has a few different options for gestures including the double-twist motion that the Moto X uses, but you also have a double-chop motion, and a flip face down/face up twice option that you can set to launch any app you'd like. The app isn't perfect and sometimes gestures will get confused. Also apps can sometimes be a bit slow to launch.
Twisty Launcher is free and says it is compatible with devices running 2.3 and up, but there are some notable exceptions to that compatibility like the HTC One.
Active Display
The second best feature of the Moto X software is the new Active Display notifications, which leverages the special abilities of the AMOLED display to only light up the pixels needed in order to show you a notification. This functionality can be mimicked using the
ActiveNotifications
app, but fair warning, this app
only works with Android 4.3
, because only 4.3 allows apps to access notifications.
If you do have Android 4.3, the app will look just like Motorola's Active Display feature. It will also work on any device, so you can use it on a Nexus 4, 7, or 10, but if you do have a Galaxy Nexus (the only Nexus with Android 4.3 and an AMOLED display), the app will go the extra bit and only light up the needed pixels on your display to save you battery life.
ActiveNotifications lets you control which apps are allowed to trigger notifications and set notifications to hide at night. Then for a 99 cent premium you can unlock two extra features: privacy to hide notification details, and an option to automatically turn off the display after you've dismissed a notification.
As we said before ActiveNotifications is only available on Android 4.3, but if you've got that, then you can grab the app for free.
Download: