How to find rare Pokémon using Ingress
2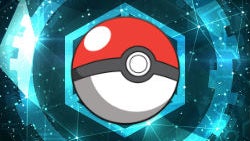 The fact that Pokémon GO shares a lot of its DNA with Niantic's first title, Ingress, shouldn't really surprise anyone at this point. The games are more similar than they are different. Of course, it turns out that the design of Ingress can actually help you out in Pokémon GO in pointing you towards the best areas to find Pokémon.
Pokémon GO has a very basic, cartoony style to its in-game map and only gives fairly minimal help when it comes to helping you find Pokémon. There are some rustling leaves and the annoying hot/cold system of the footprints in the nearby menu, but that's about it. However, it turns out that by firing up Ingress, you can use that in-game map to help guide you.
The Ingress map has two major features: Portals, which were mostly converted to Pokéstops and gyms in Pokémon GO, and XM fields, which are where you can find Pokémon spawn points. As you can see in the images below, XM fields appear as white dots on the Ingress map and they tend to mark areas of frequent cellular usage and they don't always match up with areas where you find Pokéstops and gyms.
If nothing else, this tip could help you from wandering too much and killing your phone battery. You should be able to target areas and turn off your display while traveling between and save some juice.