How to enable 720p recording on the Nexus 7
9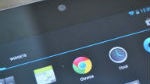 One of the more consistent points of disappointment for users with the Nexus 7 is that there is no rear camera. There isn't a lot to fault with Google's tablet, but this is one of the more voiced troubles. The tablet does have a front camera, but that has its limitations, at least according to the Jelly Bean software.
Apparently, XDA developer hillbeast found that the limitation was in software only, which makes sense. The front camera is 1.2 MP and can provide HD video for Google+ Hangouts, its just video capture through the camera app that has been held back for some reason. Hillbeast has taken it to task to fix that limitation, and has been successful. Of course, the demo videos should prove why Google may not have wanted people to be recording much with a front-facing camera - it must be awkward to record scenery when the display is facing away from you.
In order to make this work, you'll need to modify "/system/etc/media_profiles.xml" with some code, as well as install a camera app to your tablet. If that doesn't sound like too much work to you, you can get the instructions and files you'll need at the source. And, below are the sample videos, the first in 720p and the second in regular 480p.