How to download files faster on the Samsung Galaxy S5
19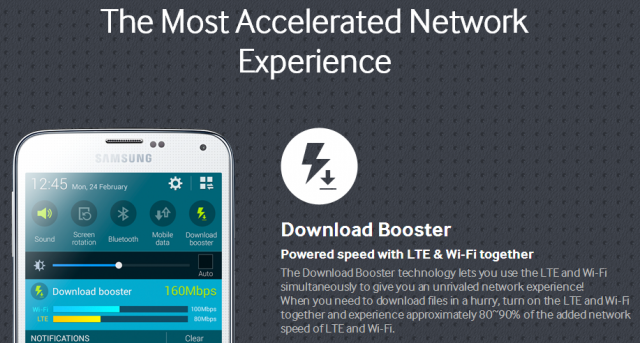 Did you know that you could download files faster on the Galaxy S5? Samsung's new Android flagship comes with a built-in
'Download Booster'
mode that basically allows you to use the speeds of Wi-Fi and 4G LTE networks combined. This will come in handy, especially for users who are in a hurry to download a big file.
'Download Booster'
is as simple as it gets - you just have to know that the option exists. On most Galaxy S5, to enable download booster, you need to first have enabled Mobile Data and Wi-Fi, and then slide down from the top to bring the notification shade. Slide the toggles to the left, and - by default - that's where the
'Download Booster'
mode resides.
If you cannot find it there, make sure to double-check: just open Settings and look for the Download Booster icon. By default, it's a blue icon appearing at the top-most row, and you can enable it from there as well.
Some Galaxy S5 devices, however, might lack this new mode. In fact, the three biggest US carriers - Verizon Wireless, AT&T, Sprint - have negotiated to have the feature removed to avoid having their networks hogged. The only big US carrier that seemingly supports it for the moment is T-Mobile.
Finally, keep in mind that by using your 4G LTE connection to download large files, you'll quickly deplete your monthly data allowance. Moreover, you may run into overage fees on some carriers. The
'Download Booster'
could be a useful feature for those times when you need to get files as quickly as possible, but make sure to use it with caution.