How to delete every voice command you've ever said to Google Now
3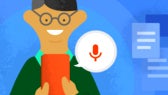 Google has the habit of storing everything you've ever said and done while logged in with your account for the generations to marvel at, unless you tell it not to do so, pausing the location, web search and voice tracking options. Yes, every voice command you've ever muttered to Google Voice in Google's Now virtual assistant on your Android phone also gets recorded and stored, with a nice little replay button next to it.
Still, the company collects info about your habits, history and voice commands only if you permit it to, and those are visible only to you. In case you don't want your drunken request for directions to the next club at 2am to languish on Google's servers, though, you can erase those, too, after first listening through, and marveling to each and every command you've ever placed to Google Now. Here's what you need to do:
2. Click or tap on the three-dot menu in the upper right corner of the page;
3. Choose "Delete options" from the drop-down;

4. From the pop-up menu, choose "Advanced", and select the "All Time" option. That's all, folks, now Google will purge all the voice commands it has stored, and you can move the slider to prevent it from storing any in the future.