How to claim 100 GB of free OneDrive storage on your Galaxy S6, Note 5 and other Samsung gear
8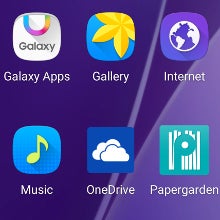 It was not exactly out of the blue, given
Microsoft's stealthy push into Android
with launchers, lock screens, and a
smorgasbord of other apps
, but the team from Redmond entered a partnership with Samsung to provide 100 GB of free OneDrive cloud storage for some of its handsets. The deal was announced together with the
Galaxy S6
and
S6 edge
as part of a larger collaboration to have Microsoft apps like Word or PowerPoint preinstalled on Samsung devices.
The 100 GB of free OneDrive storage offer then expanded to the
Note 5
and
Galaxy S6 edge+
when they launched in the summer, as well as to various other Samsung phones and tablets. If you have such a gear, and have forgotten that it entitles you to 100 GB of cloud services gratis, it's very simple to claim that extra amount. The deal will run for two years at least, so it's worth hooking up to, and saving about fifty bucks in the process. OneDrive also lets you stream media that you have uploaded directly from the service, so you don't need to occupy your limited phone storage space with that heavy stuff. Here's what you need to do:
2. Fire up OneDrive, and register a new Microsoft account, or login with an existing one;


3. Agree to the terms and conditions applicable, and swipe left from within the app, then choose the Settings>Personal option from the menu, and see if your quota is now listed as 115 GB (OneDrive offers 15 GB for free, and the partnership with Samsung tacks on another 100 GB);


4. If you are logged in already, swipe left from the app, and go to Settings> Claim your free 100 GB storage.
That is all, folks - if your device is eligible, you should be able to add 100 GB of free OneDrive to your cloud storage options on your
Samsung gear
this way.