How to change the default notification sound in Android
11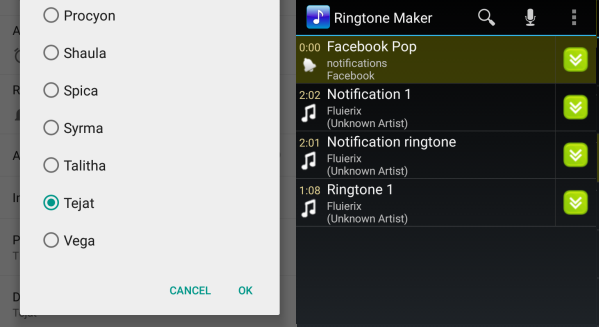 If you're an Android user and you work in places where many of your colleagues have the same notification sound, or if you simply want to personalize your smartphone or tablet, chances are that you'll want to learn how to change the default notification sound of your Android device.
Here's how to change the default notification ringtone on Android Lollipop 5.0 by choosing from a list of predefined ringtones. The same process works for most Android versions on most launchers and on most custom ROMs as well.
Go to the settings screen. Android Lollipop users can swipe down with two fingers from any screen and then click on the little gear icon in the top right corner.
Tap on "Sound & notification"
Tap on "Default notification ringtone"
Choose a notification ringtone from the list.
When you're looking to set up a custom notification ringtone, the best thing to do is to use a free app called "Ringtone Maker".
Go to the Google Play store.
Download, install, and open Ringtone Maker. Here's the link on Google Play.
The app will provide you with a list of the mp3 files that it has discovered on your device.
Tap on the green double-arrow button on the right side of an mp3 file
Tap on "Advanced"
Pick "Set as Notification" on the next screen and tap OK.
There you go, now you have successfully set up a default notification ringtone.
If you've found this short tutorial to be useful, make sure to drop us a comment and let us know!