How to bypass Samsung Galaxy Note 3's regional lock
17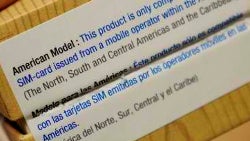 If you've been following the mobilespace long enough, you'll know that every now and then we get somerather unpleasant reminders that plug reality right back on. Thoseare usually of the 'it's-a-business-in-for-the-money' slap typereminders.
Onesuch reminder has been enforced by Samsung just recently – thecompany has launched a new policy which dictates that your paid forunlocked devices are... not necessarily bondage-free. Currently, thenew rule is only applicable to Samsung Galaxy Note 3 units in Europeand the Americas, though Sammy is planning on forcing this to olderdevices like the Galaxy S3/S4 and Note II, for example. And while weunderstand that Samsung mayhave a reason good enough to warrant upsetting its userbase, asconsumers ourselves, we're far from proponents of the new policy, atleast in its current form.
Speaking of the policy's currentform, here's how it goes. Samsung claims that as long as you activateyour Note 3 with a SIM card from the region your unit has beenlocked into, you'll be all fine and dandy using international SIMswhen roaming, for example. Unfortunately, a significant number ofpeople have found that this is not necessarily always the case andhave since taken to the interwebs to voice their displeasure. If youfind yourself feeling similarly displeased, then this (short) guide is foryou, for it's meant to show you how to region unlock your Galaxy Note3 fast and easy.
Note: the app is currently only tested for the European SM-N9005 model (MI7 firmware). We'll update this guide if and once this become available to a broader public.
source: XDA