How to access and read dismissed notifications in Android
13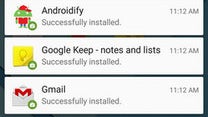 Android users, have you ever dismissed a notification by instinct without reading its contents carefully? Don't worry – most of us have done that at some point, and it is no big deal if you think about it. After all, figuring out which app required your attention should be pretty easy. In some rare instances, however, you might not be able to tell where the notification came from. That's when your phone's notification log might comes in handy in case you want to bring the missed notification back.
Now, don't worry if you've never heard about the Android notification log. As a matter of fact, it might not be accessible on your phone at all – only select Android devices, among which are those phones and tablets running stock or near-stock Android, allow it to be opened without additional apps or modifications. And the way it is accessed is far from obvious. For some strange reason, opening the said log is done from the stock Android Settings widget.
To reiterate, the Settings widget, which acts as a shortcut to the notification log, does not come pre-installed on all Android phones and tablets. That's why the method described below might not work for you, unless you have a Nexus phone or a device running stock Android.
With that out of the way, here are the steps you need to take to access all your recent notifications:
Long-press on an empty spot anywhere your phone's home screen until a menu appears. Select "Widgets".
Find a widget called "Settings". It has a size of 1x1 and it has a cogwheel for an icon.
Drag and drop the "Settings" widget on your homescreen. When released, a list of possible targets for the widget will appear.
Find "Notification log" in the list and select it. At this point, a shortcut the said log will appear on your home screen.
Press on the shortcut you just created to access and read your dismissed notifications.