How often do you change your phone: Poll Results
9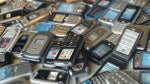 So, um, last week we ran this poll "
How often do you change your phone?
", since we found it pretty interesting so see how the typical PhoneArena reader behaves in this respect. Well, it looks like most users switch their phone once every year. Of all 1669 voters, 31.76% have chosen that option. However, those who prefer to stick with their handset for two years, and then make a switch are almost as many - 31%. Overall, we can conclude that the majority of PhoneArena readers change their phone every one or two years.
There's also a significant number of people who can't hold on to a single device even for a year. These users represent 23.67% of the participants, while the smallest group, or the remaining 12.88%, aren't really into changing their hardware often, so they stay with them for more than 2 years.
Not really surprising results here, but it's definitely interesting to see that there isn't a single common time interval for changing phones among PhoneArena readers.