How much time do you spend on mobile gaming each day?
37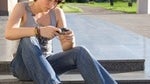 Game on, PhoneArena users! As once the great poet said, united we stand, disconnected we fall! Whether you are a casual gamer, playing Angry Birds on your way to work, or you are slashing fruits while waiting in front of the dentist's office, wishing that it was the dentist on the board, we all immerse ourselves in the boundless world of mobile gaming. Yes, that includes the time you got those bloodshot eyes trying to improve your record running around lost temples.
Look no further for Mario's princess, we're keeping her in the PhoneArena castle. The riddle here is how much time do you spend a day on your smartphone playing games?