How many calories in a Big Mac or a Double Whopper? Just ask Google Now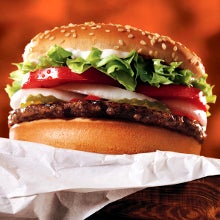 The ever-helpful Google is introducing a new feature, aiming to induce or prevent the guilt trip associated with a visit to your favorite fast food establishment. You can now say "OK, Google" to your phone, and ask Google Now directly things like "How many calories in a Big Mac?" or "What's in a Double Whopper?"
Regardless of whether you ask your phone, or type those in Google's search field on your computer, a picture of the fast food culprit will appear, on top of a table with the nutritional values breakdown will appear. This will inform you how many calories are in each Happy Meal, for instance, and the amount of proteins or carbs there. The list that Google has created is pretty exhaustive, including a number of meals from the most popular chain restaurants, so you can take the feature for a spin right now on your Android phone, and don't play surprised when you learn the amount of fat you wolf down with each Triple Whopper.