How impressive was the Apple iPhone 6 and iPhone 6 Plus launch? Check out this chart
54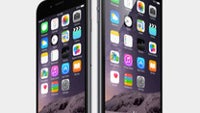 So Apple set a new record by
ringing up 10 million units
of the new
Apple iPhone 6
and
Apple iPhone 6 Plus
over the three day launch weekend. How does this compare with other Apple launches, and the release of some of Samsung's Galaxy devices? Asymco's Horace Deidu put together a graph that measures the per day sales for these devices during pre-order and launch weekend periods.
For example, while the 10 million iPhone 6 units sold by Apple this past weekend set a cumulative record, on a per day basis the record belongs to the first day of the Apple iPhone 6 and Apple iPhone 6 Plus pre-order period.
Apple tallied 4 million reservations that first day
, which stands as the record for now. The launch weekend for the iPhone 6 and iPhone 6 Plus resulted in 3.3 million units sold each day, good enough for second. That is followed by the
3 million units sold per day during the launch weekend
for the
Apple iPhone 5s
and
Apple iPhone 5c
. The
Apple iPhone 5
pre-order is next followed by the Apple iPhone 5 launch weekend.
Looking at Apple's tablet launches, the
Apple iPad 4
and
Apple iPad mini
(both Wi-Fi only versions), tied the average sales per day seen during the
Apple iPad 3
's opening weekend. The stats for the
Samsung Galaxy S II
through the
Samsung Galaxy S5
show much lower per day sales. It took a month for the
Samsung Galaxy S4
, the fastest selling Android phone ever, to reach the 10 million sales mark scored by the two new iPhone 6 models in just three days.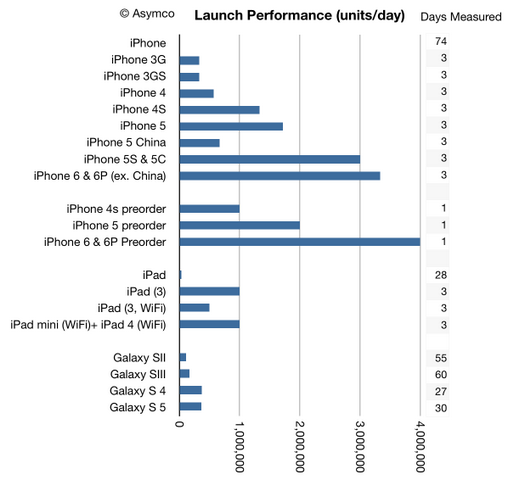 Check out how impressive Apple's recent launch really was
source:
@asymco
via
BGR