How did the battery fare on the BlackBerry Q10?
15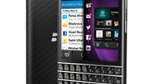 The QWERTY equipped
BlackBerry Q10
offers a
2100mAh battery
which is 300mAh larger than the cell on the all-touch
BlackBerry Z10
. With the larger capacity battery, just how well did the Q10 do in battery tests? The first test measured talk time and while the
Motorola RAZR MAXX
led the way with 21 hours and 18 minutes of talk time, the BlackBerry Q10 did quite well with 20 hours of talk time before the battery went dead. Just above it was the
Motorola RAZR i
(20 hours, 7 minutes),
Motorola DROID RAZR MAXX
(20 hours, 24 minutes), and the
LG Optimus G Pro
(20 hours 45 minutes). By the way, when it comes to talk time, the BlackBerry Q10 even outlasted the
Samsung Galaxy S4
which lasted for 18 hours and 3 minutes.
Moving on to browsing, it was the
HTC One
that set the standard with the best time. The Taiwan manufacturer's new Android flagship model lasted for 9 hours and 58 minutes. That beat the
Apple iPhone 5
by two minutes. The Motorola RAZR MAXX was third with the battery lasting 9 hours and 12 minutes. The
Apple iPad mini
was next with the browser rocking for 9 hours and 5 minutes. That was followed by the
Samsung GALAXY Note II
was with a time of 8 hours and 48 minutes of browser time. The BlackBerry Q10 was sixth, posting a score of 8 hours and 42 minutes.
Turning to video playback, the BlackBerry Q10 finished seventh with a time of 11 hours and 15 minutes. This beat out the 10 hours and 12 minutes achieved by the Apple iPhone 5 and the 10 hours 2 minutes posted by the HTC One. On top, the Motorola RAZR MAXX ran video for 16 hours and 35 minutes. That was more than 3 and half minutes longer than the time scored by the next longest running device, the Apple iPad mini. The
Samsung Galaxy Premier
was third with video playback time of 12 hours and 51 minutes. That was followed by the two different versions of the Samsung Galaxy S4. The U.S.model with the Qualcomm Snapdragon 600 processor scored video playback time of 12 hours and 30 minutes while the international version with the Samsung Exynos 5 Octa processor lasted 1 hour and 1 minutes less with 11 hours and 29 minutes.
Overall, we would have to say that BlackBerry did a good job optimizing the 2100mAh battery on the Q10. Part of the reason for the decent battery life is the fact that we are dealing with a
smaller 3.1 inch screen
. And while the size of the screen improves battery life, it doesn't make it terribly easy to view videos and play games, especially with much larger screens available.
source:
GSMArena