Holiday sales over mobile devices set new record for Thanksgiving and Black Friday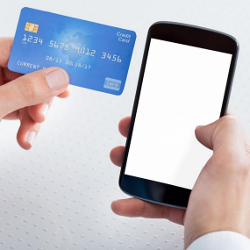 Online shoppers set a record today for the most sales ever rung up in a single day by consumers using mobile devices. On Thanksgiving Day, record mobile device sales of $771 million were achieved and among the retailers leading the way were Amazon, Walmart and Target. Of the record $3 billion in sales expected today for Black Friday, $1 billion will be from orders placed on a mobile device according to Adobe.
Led by sales of Alexa-enabled devices like the Amazon Echo and Echo Dot,
Amazon
says that this year's Thanksgiving Day sales over mobile exceeded mobile sales tallied last year on Thanksgiving and Cyber Monday.
Walmart
said that Thanksgiving was one of its top shopping days of the year. It's Black Friday sales began at 6pm Thursday, and from that point forward the discounter says that 70% of the traffic at its website was driven there by a mobile device. Walmart also offered special deals for users of its mobile app for the first time ever.
Target also took advantage of this trend as mobile sales made up 60% of the company's total online sales on Thanksgiving. Target used its Cartwheel Savings app to drive traffic to its mobile app. Those shopping inside the store can use Cartwheel in conjunction with the Target mobile app to get an additional 15% off purchases for the rest of Black Friday and for Cyber Monday. Mobile sales at Ebay rose slightly as 38% of merchandise bought on Thanksgiving was purchased using a mobile device as compared to 35% from last year.
Out of all visits to retailers' online sites on Black Friday, 56% came from a mobile device. Smartphones are still consumer's favorite tool for getting to a mobile store. 47% of those visits to a mobile site came from a smartphone, while 9% came from a tablet. Looking at actual online sales rung up on Black Friday, mobile made up 40% of these sales with 29% coming from a smartphone and 11% from a tablet.
And one last piece of data that is sure to heat things up on a chilly Black Friday evening. The average order placed over an iOS device was $144 compared to $136 for the average order placed over an Android device. Frankly, those figures are too close to mean anything one way or another. Still, it probably won't stop many of you from reaching some kind of conclusion about what the data means.
PhoneArena is on Instagram
. Follow us to stay updated with fresh news and flashy media from the world of mobile!
source:
TechCrunch