Hilarious parody of Zooey Deschanel's Siri ad surfaces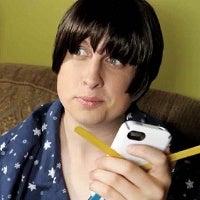 You've probably already seen Zooey Deschannel's ad for the iPhone 4S, and the actress known for being cute and kind of dorky comes off a bit more on the dorky side, just enough to have the folks from Fnny or Die step up with their own version of the ad.
That's where
"Jooey Deschannel"
comes in to show some of the absurd things in the original iPhone 4S ad. There for example, Zooey Deschannel comes up to a window and asks Siri whether it's raining when it obviously is. A perfect thing to parody and you shouldn't doubt - it's in there. As are many other things, but bottomline is that it underscores that sometimes using Siri could be a dorky thing to do.
What about you, do you find yourself using Siri now that time has past after the initial hype?