High frequency sound plaguing the iPhone 3G S?
This article contains unofficial information.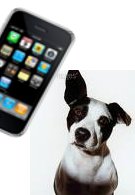 Can you hear me? Can you hear me now? Well maybe not quite yet, but reports are saying that there is a high frequency sound that is plaguing the new iPhone 3G S. You might be able to hear it, but we're sure your dog might have a better chance. For those that are affected, it occurs whenever a system sound plays – like the one you hear after unlocking your phone. The emitted sound is at around 15KHz; so some may be able to hear it. It's looking more like a software issue than anything else seeing that it does not happen when placing the phone on vibrate. No word yet from Apple, but it looks like there are owners out there that have the issue. So we'll just have to wait and sit back until a fix comes into light from Apple.
Apple iPhone 3G S Specifications
source:
BGR