Here's why the Xperia Z1 is the world's leading cameraphone according to Sony
97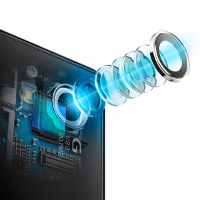 A 5-inch Triluminos display withX-Reality engine for mobile, an IP55/58 certified body promisingwater and dust resistance, and the latest, most powerful Snapdragon800. Those are but a few of the top-of-the-lineinternals that the Sony Xperia Z1 comes packing. And yet, it is the20.7MP camera unit packing an Exmor RS sensor and Sony's proprietaryG lens that truly sets the Japanese company's phone apart. So much so, that according to Sony, the Xperia Z1 comes with "the world's leading camera in asmartphone".
But what goes into a statement likethat? You've probably guessed that such a claim is sure toattract the legal minds of any one competitor named in the survey,which is probably why Sony has been quite extensive and descriptive in itsportrayal of the exact conditions under which the survey thatStrategy Analytics carried out was performed.
Pitting the Sony Xperia Z1 againstits main rivals, the company's new flagship was joined by the iPhone5, HTC One, Nokia 925, Nokia 1020 and Samsung Galaxy S4. Tested underseveral scenarios, all of the smartphones listed above had theirflash set to 'off' and their camera settings set to default. Ratingthe quality of the snaps taken by the various devices from 1 = verypoor, to 5 = very good, were 209 consumers based in the UK, said torepresent a typical sample of smartphone buyers. Theplethora of images were then put on display via the following media:a 50-inch HD monitor, on the displays of the devices themselves(which were concealed, and had their order randomized as to avoid bias), and lastly: printed on a glossy A4photo paper. The results were judged based on four factors that aprevious Sony-sponsored survey found were most relevant to consumers:Sharpness, Brightness, Life-likeness, and "Overall picturequality".
By now, it should be dawning on youthat when we said Sony was quit extensive, we weren't kidding –this is actually the short version. Despite Sony's attempt tostrictly adhere to a unbiased survey, however, we feel obligated to note a few key facts for your consideration. First, and probably mostimportant – while we definitely get the idea that what consumersperceive as the best mattersmost at the end of the day (for a business entity, such as Sony), we nevertheless have to point out thatthe multitude of considerations that go into defining a really goodimage are, for the most part, lost on your typical consumer.Moreover, a survey with a sample of just 209 participants,qualitative as it may be, will (and should) be taken with a pinch ofsalt.
So,now that we've covered the technicalities (the, admittedly, boringpart), lets get right into the test samples and see some of the bestcameraphones fight it out.
Sony Xperia Z1's 20.7MP shooter against the competition

source: Sony Mobile