Here's how manufacturers anodize aluminum and titanium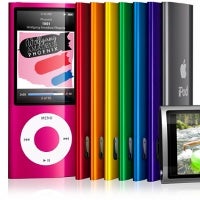 When we take most high-end smartphones or tablets for a spin, the first thing that we usually look at and feel is the body of the device itself. In lower priced products, that's usually made out of plastic, and while some high-end gadgets are also plastic, there's little that speaks high-end more than solid anodized aluminum.
Apple's iPods use it, the HTC One S advertized it hugely, and other gadgets also come with this quality finish, but how do manufacturers actually anodize the otherwise plain aluminum, make it more durable and give it color?
It's not a simple process, but the results are often worth the effort. Actually, to anodize aluminum, the manufacturer exposes it directly to oxygen so it gets a bit rusty. You might be used to thinking that corrosion is only a bad thing, but in this case it opens up little holes, making the aluminum porous and allowing for paint to flow in there. Then, using boiling hot water, those filled pores are sealed for good, so that the paint can actually never come off under conventional use. Check out the full explanation with a video demonstration below, and chime in with your opinion - what's the best material for high-end gadgets, aluminum or some kind of plastic like polycarbonate, what do you prefer?