Here's how images from the 135-degree main camera of the LG G5 compare
26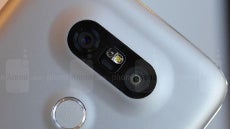 While it's unclear if LG is using the same 16-megapixel unit available with the LG G4 (a 1/2.6" Sony IMX234 with
f
/1.8 lens), we do know that it's no ordinary camera. That is, it works in concert with an additional, 8-megapixel snapper, which is there for a pretty legit reason: to offer a wider field of view if and whenever you need it.
Indeed, from what LG has told us so far, the 16-megapixel sensor has a field of view of 78 degrees, while the auxiliary cam offers the impressive 135 degrees. That's actually slightly wider than what you see with your own, inferior (in this regard) human eyes. In effect, were you to put the LG G5 on your nose, it would capture more of the scene than you can see.
As you can imagine, to do so, the G5 reverts to the 8-megapixel snapper, meaning your images will be less detailed, but include far more information than if you were to use the main camera. To work this magic, you just click a software button within the camera interface, and voila! Scene captured, in full.
At this point, many of you will be wondering just how dramatic of a difference are we talking about, given that the secondary camera offers nearly twice the field of view. To illustrate, we took some test shots, and the advantage is undeniable. Have a look: