Here's how Samsung never copies Apple... Not
99+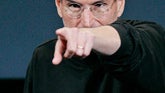 That might not be the right thing to do, but it's inevitable with an
endless legal saga
. An entertaining (yet true) collection of images hit the nets recently and it's probably the best illustration on the copycat case we've seen so far.
Interestingly, it reveals that Samsung has even overlooked the fact that it's got iOS app images in its retail stores. The Safari and App Store icons appear on the background of what one would think should be only Android apps. But there's a couple of more images to prove the point, if you don't get it.

Do you think that's enough to conclude that Samsung is indeed "slavishly" copying from Apple and how important you feel the issue is? Check out the whole set of images on the right.