Here is one reason not to buy an iPad from Wal-Mart
40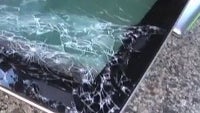 One thing is certain - you don't know where your electronics come from. You don't know whether some workers in a factory on the other end of the world didn't throw it around, drop it while it's in the box and laugh it out. You don't even know whether this happened at the very Wal-Mart you purchased your iPad in.
And while chances are that people working countless hours in China manufacturing electronics would under no circumstance throw them around for fun, at Wal-Mart these things could happen.
Or at least that's what the video below shows - employees throwing around iPads, dropping them and generally having fun breaking your electronics. It could be fake. Some kind of a joke, but it looks realistic. What you'll see below is from a Wal-Mart warehouse in Pikeville, KY, and next time you shop at a Wal-Mart, you might want to check the condition of that iPad before you leave the store.
via
Gizmodo