Here is a "do it yourself" screen protection solution, from the makers of Flash Flood waterproofing
14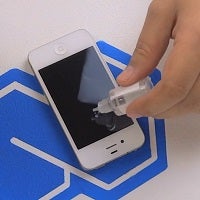 Liquid Sapphire is exactly what the name suggests. Three drops on your smartphone's screen, some light buffing, and you have a nifty, invisible coating that will protect your screen with no need to re-apply.
The application is remarkably simple, three drops, rub it in, wait a few minutes and then buff it off. Repeat that process three times and you have a permanent, scratch-proof protective layer that is as hard as sapphire crystal.
According to Nanostate, the company behind Liquid Sapphire, and maker of the well known Flash Flood waterproofing solution, Liquid Sapphire will not cloud up the display. The solution maintains transparency so you will not notice any change in the appearance of your device's display.
The neat part about this particular crowd funding campaign is that the goal is ridiculously low, only $500, and you will still get your Liquid Sapphire even in the unlikely event that the funding goal is not reached. Even better is that there are perks available that will not only net you some Liquid Sapphire, but will also give you a bottle of Flash Flood so you can water-proof your device after putting on the scratch protection too.
Perks start at just $25 for a single bottle, up to $289 for service packages. You will get your Liquid Sapphire in October if you hop on board. If you wait, expect retail pricing to start at around $30 for 0.7 ounces. This is sure to appeal to those that like to protect their gadgets, but do not like putting stickers or layers of plastic on them. We have included a bunch of videos below. Click on the source link to get yours.
source:
Nanostate
(Indiegogo)