Here are the phones that can capture RAW / DNG photos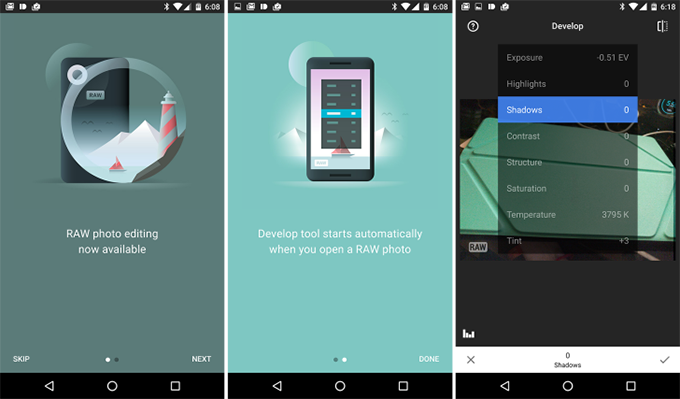 News of the past week is that Snapseed, arguably the most popular and feature-rich image editor on Android,
has gotten support for RAW image editing
.
RAW image files are uncompressed images from the phone that retain the original information from a shot in its entirety and allow for much more freedom when editing those files: you can bring out highlights and just make deeper adjustments without losing detail.
At the same time, not every phone's camera supports RAW image shooting. Here are the ones that do and the notable ones that do not (at least in the stock camera app).
Disclaimer:
Do keep in mind that while RAW shooting is not supported on many phones' stock app, you can still capture DNG RAW images on some of these devices via an app like Camera FV-5 ($2.99,
Google Play Store download link here
).
Samsung Galaxy Note5 / S6 Edge+
In order to shoot RAW on the latest Samsung phablets, you need to first switch into Pro mode in the camera, then go into settings and enable 'Save as RAW file' for images. Note that if you are shooting in auto mode, this option could be greyed out and you won't be able to turn it on.
FEATURED VIDEO
Important:
The Samsung Galaxy S6 does NOT support RAW image files, so you can only shoot compressed JPGs with it.
LG G4 and LG V10
We have praised the LG G4 and LG V10 for having one of the best (if not the best) stock camera apps on Android. With three shooting modes - a simple (with no controls), a basic (with few controls), and a truly detailed yet easy to manual mode (with ISO, shutter speed, focus and white balance controls) - you have all the choice in the world. In order to shoot RAW, you simply have to select the option in the settings of the manual recording mode, it's that easy.
Moto X Style / Pure
*no support for RAW photo capture in stock camera app
Motorola's heavy-hitting phablet duo - the Moto X Style and Moto X Pure - lacks support
Nexus 5X and 6P
*no support for RAW photo capture in stock camera app
The new Google Nexus phones do not support RAW image capture in the stock camera app and Google is not promoting such a feature in any way.
Sony Xperia Z5 family
*no support for RAW photo capture in stock camera app
Sony has improved the camera in its Xperia Z family quite significantly with the Z5 and while we cannot complain about the general quality of the images, the stock camera app leaves a lot to be desired. Regretfully, it lacks full manual controls and it also does not support RAW photo capture.