Snapseed gets RAW photo editing: see the difference between JPG and RAW here
12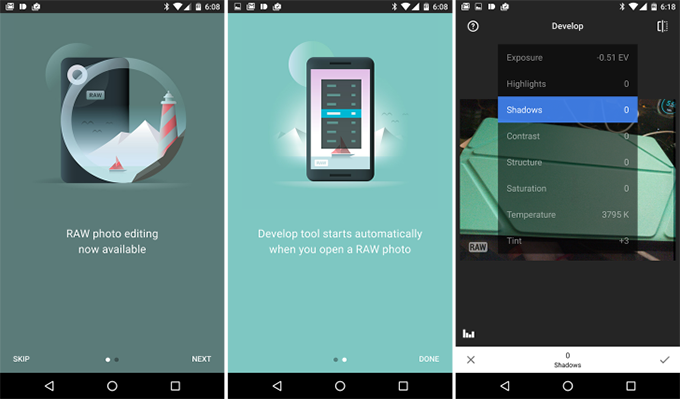 Snapseed is one of the most feature-rich photo editors for mobile out there and it's completely free, unspoiled by any kind of in-app purchases or other bloat.
Now, it's also gotten an impressive new feature: the ability to edit RAW format photos (in version 2.1) that many top-end smartphone are capable of shooting these days. Officially, RAW image capture was introduced with the Camera 2.0 API and Android 5, but it depends on the phone maker whether to introduce the feature or not. Even if you can shoot RAW images, question remains: how do you edit those files on a phone?
Big difference when recovering blown-out highlights
RAW images are in fact usually saved in the DNG format on mobile and are much larger than the compressed .JPG files that you are used to shooting. With their larger size, however, also comes a larger freedom to edit and bring out detail that you can't uncover in JPG images. Snapseed offers a one-click auto editing solution for those RAW images that will work wonders in many cases.
Google engineer Anton Daupert explained:
"A photo in RAW format preserves all of the original data that was captured by the camera. This allows you to perform edits – such as recovering blown-out highlights – that are impossible with the more commonly used JPEG format."
You can find a couple of examples right below and a link to the app further below.