Here are the new benchmark tests we will be using in our reviews 44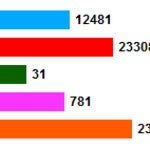 Synthetic benchmarks should be approached with care, because putting too much trust in those numbers may result in unnecessarily high (or low) expectations of a device's performance. Indeed, it is real-world usage that counts, but still, benchmarking shouldn't be ignored altogether. After all, there are some tests that can actually give us a pretty good picture about certain aspects of a phone or a tablet.
We think you know where this is going. Ladies and gents, allow us to introduce our new benchmarks! Let us elaborate: we've come up with a number of somewhat more scientific tests that we'll use to study the devices' displays, system performance, camera speed, audio output and... that's right - battery life! The results will be easily visible in the respective device's review. Here's a glimpse of how the new benchmarks are going to look!
When it comes to

displays

, we'll be providing you with quite a lot of information. For example, you'll be able to see a display's maximum and minimum brightness, contrast, color temperature, Delta E, color gamut and more. We've tried to make it all easy to use and understand.
Display measurements and quality
Maximum brightness

Higher is better

Minimum brightness

(nits)

Lower is better

Contrast

Higher is better

Color temperature

(Kelvins)

Gamma
Delta E rgbcmy

Lower is better

Delta E grayscale

Lower is better

LG G2
438


(Good)

8


(Good)

1:1338


(Excellent)

8109


(Poor)

2.25

4.27


(Average)

6.22


(Average)

Samsung Galaxy S4
289


(Poor)

9


(Average)

unmeasurable


(Excellent)

7316


(Good)

2.16

5.52


(Average)

7.31


(Average)

HTC One
460


(Good)

14


(Poor)

1:1758


(Excellent)

8008


(Poor)

2.21

5.89


(Average)

5.33


(Average)
Up next, we'll continue to check

performance

of Android phones by running some of the most popular performance benchmarks out there, but we'll be displaying the results in a new, more appealing type of visualization.
Quadrant

Higher is better

Sony Xperia Z Ultra

18158

Sony Xperia Z Ultra

29732

GFXBench Egypt HD 2.5 onscreen

(fps)

Higher is better

Vellamo Metal

Higher is better

Vellamo HTML 5

Higher is better
We'll be testing

camera speeds

in a couple of ways. The first one is our custom "Taking a pic" test, which will measure the time needed for a camera to launch, focus, take a picture, and get ready to take the next one. This test will also have a separate result for HDR photo-taking. We'll also post the scores we've got using the cross-platform Camspeed benchmarking app.
Moving on to the

audio output

, there are two things we're going to measure in this regard. The first is the output power of the 3.5 mm headphone jack (in volts), and the second one is the loudspeaker's loudness (in decibels).
Headphones output power

(Volts)

Higher is better

Loudspeaker loudness

(dB)

Higher is better
Finally, we've created a custom

battery life

benchmark to test phones with. It's a special script, designed to replicate real-life usage. The results for each handset or tablet will be provided in hours and minutes.
We measure battery life by running a custom web-script, designed to replicate the power consumption of typical real-life usage. All devices that go through the test have their displays set at 200-nit brightness.
Of course, keep in mind that all of these benchmarks are quite new, so we might continue polishing and improving them during the days ahead.