Here are the UX upgrades that Samsung is bringing with the newest iteration of TouchWiz
3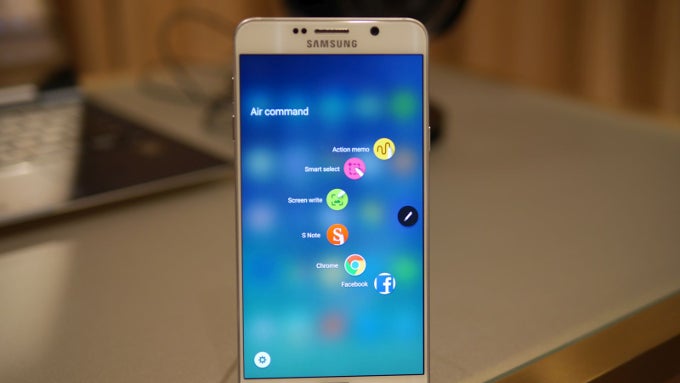 Well, folks, Samsung has finally unveiled the
Galaxy S6 edge+
and its
Note5
– the next iteration of its leading phablet line. Along with these super-hot phones, the company will also be updating its UI with an array of features and upgrades to improve user experience.
We've had a chance to get a close-up demo of said features – that includes the new and improved Smart Connect, live YouTube streaming, the new S Pen functions, and Samsung Pay. Check out the details below!
Connect to other devices
Samsung's SideSync has been present on its smartphones for a while now, but it it has, together with the Samsung PC companion software, received another rehash in order to make connections easier, and more seamless. As you can see in the video below, you can now wirelessly connect your phone to your laptop and use Sammy's proprietary program to mirror the handset's screen on your PC display, get notifications, and transfer files with ease.
SideSync 4.0 isn't limited to computers, though – it can basically link to any "smart" device – like a smart TV, as shown below.
S Pen
The S Pen is what sets the Note line apart from any other tablets and Samsung, naturally, continues to improve it with every new iteration. This year, we are treated to a stylus that is closest in appearance to an actual pen than ever before. It's not all in the looks, of course – the way S Pen works has been tweaked as well.
For starters, the new Air Command menu is now a persistent tool that constantly floats on top of the screen – kind of like a Facebook chat head. It can be dismissed at any time by flicking it to the top of the screen. Should you need to recall it, a simple swipe with the S Pen's tip over the screen will do that. Tapping on Air Command's persistent bubble will open the full menu of functions.
The improved uses for the S Pen include an upgraded screen capture – one that allows you to capture many pages in succession, ending up with a large, automatically glued-up screenshot of a document that is otherwise larger than the phone's screen. Additionally, the S Pen can now write directly on top of .pdf files – great for signing documents. The Scrapbook also got an upgrade in terms of being able to categorize your scraps for easier reference later on.
Last, but not least, it will now be easier to take Action Memos directly on the lock screen, as the user can pull out the pen and start typing on the screen while it's in an "off" state. The pen will leave white traces on the black background, saving both battery and time.
Broadcast to YouTube

The new Camera app will allow users to broadcast to YouTube directly from their top-shelf Galaxy smartphones. The max resolution this mode would support is Full HD – 1920 x 1080 pixels. As with any regular YouTube stream, you can schedule the broadcast, you can choose it to be saved on YouTube's servers, and you can control the stream from a PC by visiting the website while still streaming from the phone.




Samsung Pay

Samsung Pay was also demoed, as it approaches its own launch. There is pretty much nothing vital that we don't already know about the system. It employs your phone's NFC and MST connectivity, so a payment is done by bringing the phone near a terminal and holding your thumb over the fingerprint scanner. Something really cool we can see in this video is a shortcut to bring up Samsung Pay's credit cards.

Even if your phone is off, all you need to do is swipe up from the very bottom of the screen. This will automatically bring up the last card you used, but swiping left or right will flip through all the ones that you have registered. From then on, it's simply a matter of authorizing the payment. Besides a physical receipt from the retailer, you will also get a digital copy of it stored in the Samsung Pay app. This is all shown in the video below.