Heavyweight champs: meet the heaviest high-end smartphones on the market
6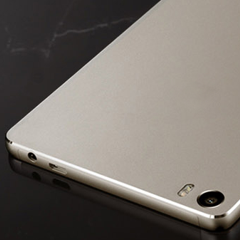 About a decade ago, high-end smartphones were what we'd now call bricks: heavy and very thick. Remember the
HTC Universal
(285 grams, 25 mm in thickness), or the
Nokia E90 Communicator
(210 grams, 20 mm in thickness)? Well, those days are long gone, and we're now in the era of ultra-thin devices.
Most high-end smartphones currently on the market aren't heavier than 160 grams, and, for most of us, that's a good thing. However, there are still quite a few high-end models that tip the scales up to around 200 grams, or even more. Curious to know which smartphones we're talking about here? Join us below (we'll start with the heaviest of them all).
Announced at the same time with the regular Huawei P8, the P8max weighs 228 grams, thus being on the top of our list. Although it's under 7mm thin, the P8max is so heavy because it has a very large, 6.8-inch 1080p display, and a metal-made body that includes a 4360 mAh battery. The giant smartphone also features an octa-core HiSilicon Kirin 930 processor, 3 GB of RAM, a 13 MP rear camera, 5 MP front-facing camera, and 64 GB of internal memory. The P8max is not yet available to buy, but Huawei will start selling it in early July (first in China, for around $600).
At 185 grams, the ZenFone Zoom is the heaviest Asus smartphone to date. Its display is not really that big (5.5 inches, 1080 x 1920 pixels), but the handset is pretty thick (11.95 mm) and houses a 13 MP rear camera with 3x optical zoom - which is obviously not as lightweight as cameras without optical zoom. Asus was supposed to launch the ZenFone Zoom this month, but it looks like the company is not yet ready to start selling it.
Another smartphone that weighs 185 grams, the Huawei Ascend Mate7 has been around since September 2014. Like the Huawei P8max, the Ascend Mate7 has a thin metallic body and a generous battery (4100 mAh), but it's smaller, thanks to the fact that its screen is a 6-inch one. The device can be bought for around $450 unlocked.
No images
Introduced last year as the largest Nexus handset to date, the Motorola-made Google Nexus 6 weighs 184 grams, thus also being the heaviest smartphone ever released by Google. Obviously, the 6-inch Quad HD (1440 x 2560 pixels) screen of the Nexus 6 needed a large (and heavy) body to fit into. Prices for the Nexus 6 currently start at $499.
And here we have another smartphone made by Motorola. The Droid Turbo only sports a 5.2-inch display (Quad HD), but its body is 11.2mm-thick, mainly because it includes a 3900 mAh battery. All in all, the Turbo is still a pretty heavy device, weighing 176 grams. The smartphone is available only from Verizon Wireless, starting at $99.99 on contract.
The Galaxy Note 4 is just as heavy as the Motorola Droid Turbo (176 grams), but that's not because it's a thick handset (it's actually 8.5mm-thin). Instead, the 5.7-inch Quad HD display, plus the metal trim around its body are certainly two of the things that put the Note 4 in the heavyweight category.
No images
At 174 grams, the Galaxy Note Edge is just 2 grams lighter than the Note 4. While its main screen is a 5.6-inch Quad HD one, the Note Edge has some extra glass on the right side, where a curved, secondary screen resides.
No images
Finally, we also have an iPhone on our list: the iPhone 6 Plus, which is Apple's largest and heaviest smartphone to date. Although it only sports a 5.5-inch screen, the iPhone 6 Plus is designed in such a way that it's larger than most handsets in its class. That, combined with the materials it's built from (anodized aluminum, stainless steel, and glass) make the iPhone 6 Plus pretty heavy: 172 grams.
No images