Have you ever bought a clone of a popular smartphone?
22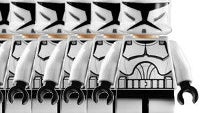 There's something truly fascinating about the shady realm of smartphone clone manufacturing. Whether it's the sheer volume and diversity (there are actual tiers of quality and faithfulness in copying), the speed at which clones of popular flagships are released (sometimes before the original thing!), or just the way these are priced, all of it has been enough to intrigue the PhoneArena team during the years enough to
produce tailored content
.
Of course, when we say fascinating, we don't necessarily mean you should ditch Samsung or Apple and go for No. 1 or GooPhone (two well-known clone maker), as the real thing is always a safer bet. The question is, when you factor in the several times lower cost, is the clone still a foolish buy? Quite frankly, considering the level of perfection
some
of the clones we've seen offer, we're definitely somewhat understanding of folk's decision to get one knowingly.
So have you ever bought a clone of a popular smartphone? If yes, were you happy with what you got, all things considered?