Eerie light show from couple's Apple iPhone XS units caught on video
22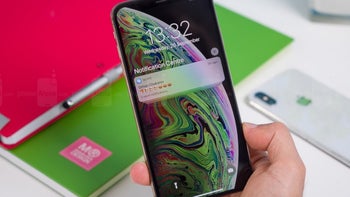 What do you do when your Apple iPhone is possessed? No, not repossessed, just possessed.
According to a Reddit post
written by someone with the handle "NotRealUserNameHomie," he and his wife have been experiencing something creepy with both of their
iPhone XS
handsets. Over the past few nights, both phones start flashing light between the hours of 3:00 am and 4:30 am. A security camera inside the house captured the strange activity.
The phones were purchased from Verizon a few weeks ago, and are said to be completely up to date software-wise. Some Redditors came up with the explanation that what was captured by the security camera was the infrared flood light used by Face ID. However, both phones have Face ID disabled. Still, even with Face ID disabled, the infrared light can still be used for the Attention Aware feature that checks to see if someone is still looking at the screen before dimming the display or lowering the sound of alerts. Another possibility is that the Accessibility feature that allows users to have the LED flash light up to signal the receipt of a notification is enabled.
One interesting suggestion brought up was to cover the Face ID sensors with a small piece of electrical tape and see if that stops the light from going off. If it is the infrared lights used for Face ID or Attention Aware, that just might stop the early morning light show from taking place. If the tape doesn't put an end to the issue, the next step would be to disable visual notifications by going to
Settings
>
Accessibility
>
LED Flash for Alerts
. If the setting is toggled on, it should be toggled off.
If nothing stops the spooky light show from taking place, a trip to a nearby Apple Store should provide the answer. Once an Apple Genius sees the videos, he or she might have a definitive answer. Check out the video by clicking on the image below.