Hands-on with the RIM BlackBerry Torch 9800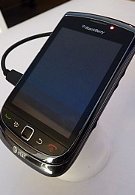 With one single show, RIM showcased what they needed to bring to the table in order to capture the mind share that's been completely overtaken by the the army of Android devices and even Apple's little pride and joy. Even though there was some buzz surrounding the long rumored BlackBerry Slider, the press event held in New York where it was introduced to the world lacked that sensational atmosphere seen by other competing companies. First up on stage was AT&T's very own Ralph de la Vega who ushered in the first glimpse of the
highly anticipated BlackBerry Torch 9800
. Aside from mentioning all of the goodies that AT&T has accomplished, he went on to give his speech on their unique partnership with RIM. From there, RIM's co-CEO Mike Lazaridis was introduced to the stage where he began to talk about the the new platform and some of the new features accompanying it, however, you can sense that lack of intrigue as the press event moved forward. Other RIM executives came on stage to preview additional new features that are going to be seen on BlackBerry OS 6, but as time kept on moving by, it was beginning to become transparent that RIM is just finally getting into the same space as its competitors – or maybe slightly below. You can check out and read all of the things that unfolded in our live coverage
here
.
Now it's time to get into the meat as we were able to finally get an opportunity to check out the long speculated BlackBerry Torch 9800. This isn't following in the same footsteps like its other brothers and sisters since it employs a totally new form factor that we haven't traditionally seen come out from RIM's camp. The smartphone itself is rather normal sized and didn't feel or look any larger than RIM's current BlackBerry Bold 9650, though, its construction might not be as solid as we would've preferred it to be. It has plenty of chrome borders outlining the handset – which radiates your ordinary appeal seen from other previous handsets. Additionally, some rubber feeling material used on the sides and rear subtly provides that rugged feeling. Not heavy at all, it feels normal sized and we didn't think of it to be bulky at all, but rather, we weren't too blown away by it – especially when it follows similarly to previous devices. As for the physical QWERTY keyboard, we found it to be decent for your normal usage, but the one employed on the BlackBerry Bold 9650 feels more solid with a better response. Fortunately, the sliding mechanism felt pretty tight and we didn't find it to wiggle as much at its hinge – so no worries when you constantly open and close it. Overall, there's nothing innovative found on design of the Torch 9800 which sadly makes it your typical BlackBerry handset.
The BlackBerry Bold 9000 was able to be a big game changer for RIM as it managed to play host to the modern day BlackBerry OS which we've been accustomed to using for the last couple of years. However, BlackBerry OS 6 was also being positioned as the next big thing out of RIM's camp which looked from previous leaks to focus a lot on the everyday consumer – plus keeping in mind its vast core business users. Visually, BlackBerry OS 6 running on the Torch 9800 didn't scream anything out of the ordinary. Sure it has some updated visuals and a WebKit based browser to bring it into competition amongst the heavy hitters in the game, but sadly it also lacks that unique charisma to make it a compelling competitor. The notifications system received an overhaul now that the platform integrates social networking into the mix – so you'll always be in the loop of things with your friends. The platform was pretty responsive in almost every aspect we tested, but it feels like RIM is only catching up to the innovation seen with rival platforms like iOS and Android. When we dove further down to some of the core apps, we found the experience to be somewhat unchanged in functionality, but it did receive a makeover – such as the music player. Although we were able to briefly check out the WebKit browser running through Wi-Fi, its performance also didn't scream anything worthy enough to mention – instead, it was merely satisfactory.
In the end, is BlackBerry OS 6 a game changer for RIM? Not really. Instead, they've finally been able to slightly meet the level of acceptance for most consumers, but it's still not quite as compelling as it should be. If they were able to release this two years ago, beating everyone to the punch, it would've been highly touted as one of the supreme mobile platforms out there. Alas, the BlackBerry Torch 9800 is more of the same out of RIM's camp – but now it sports a new flavor with its portrait slider form factor. When we look back at it, the original BlackBerry Storm managed to captivate consumers more with it's completely non-traditional form, but the Torch 9800 sorely lacks that same appeal – we'll find out come August 12th if this handset can win over the hearts and minds of consumers.
RIM BlackBerry Torch 9800 Specifications