Hands-on with the ODG R-8 and R-9 Smartglasses - the first devices with the Snapdragon 835 CPU
9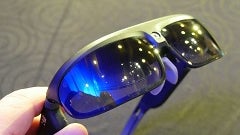 The same day that Qualcomm announced
the new Snapdragon 835
at CES 2017, Osterhout Design Group, also known as ODG, announced two new devices that expand their wide offerings of mixed virtual and augmented reality smartglasses.
The R-8 and R-9 are designed with consumer and commercial markets respectively. What ODG has done to set these devices apart is bring together content partners as they develop their equipment, this year announcing collaboration with 21th Century Fox to create headworn experiences drawn from existing smartphone applications.
In addition to being equipped with the new Snapdragon 835, the R-8 and R-9 also leverage Qualcomm's VR SDK. With that, ODG has been able to attract over 300,000 developers who have created more than 35,000 AR applications for the existing portfolio of devices.
R-9 Smartglasses
For the commercial targeted R-9, the field of view is 50-degrees with 1080p resolution. There is a 13-megapixel front facing camera, capable of shooting 4K video at 60 frames-per-second, or 1080p video at 120 frames-per-second. There are two speakers positioned near the ears, and there is 128GB of storage. Units will begin shipping in the second quarter this year with a price tag of roughly $1,800.
R-8 Smartglasses
The consumer oriented R-8 has the same overall insides with the high-end Snapdragon 835, but with dialed back resolution of 720p, a 40-degree field of view, and 64GB of storage. However, the R-8 is equipped with dual 1080p resolution stereo cameras. The R-8 will be shipping to developers in the second half of this year, and will be priced under $1,000.