Hands-on with the Motorola Stature i9
1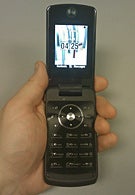 We recently got to spend some unofficial hands on time with Nextel's upcoming Stature i9. The "iDEN RAZR" is a pretty large but still sexy flip packing two large, high quality displays, touch sensitive outer keys and a
3.1
megapixel camera. Reminiscent of the v9, the i9 has a considerable heft to it. The outer display is not touch sensitive, but all around are a myriad of keys that perform different functions related to media playback, camera functions and even give you the ability to navigate the menu with the flip closed. The keypad is flat with raised bumps for feel, and there is a slick-looking illuminating ring around the d-pad. Much like the recently released 8350i, for those needing to stick with iDEN the i9 is a stylish and feature rich option. Stay tuned for a full review when we get a proper unit!
Motorola Stature i9 Specifications
Look for our full Motorola Stature i9 review soon!