Hands-on with the HTC HD2
11

We often ask ourselves how large cell phone displays can get. Do you remember the
Toshiba TG01
? Despite its thin profile, the 4.1-inch screen does make the device appear rather bulky, so when we first saw it we though there was no way screens could get any bigger and drew the line right there. It seems nothing could be further from the truth though, because the world´s largest Windows phone manufacturer has just showed us how it´s done. Meet the
HTC HD2
– a Windows phone with huge 4.3-inch display, acceptable overall size and outrageously many extra features.

Actually, we won´t be far out in saying the HTC HD2 is a real trend-setter in several things - first off, this is the handset equipped with the largest screen to date, second, it´s the first Windows phone utilizing capacitive display and third, the HD2 sets a new standard for the functionality of the operating system offering functions that, until now, were unavailable to Windows phone owners.
As we mentioned, HTC has managed to fit the gigantic screen into a body with totally reasonable overall size. Of course, you shouldn´t expect to be able to use the handset with one hand, but at least carrying it around in your pocket doesn´t feel discomforting. Probably due to the limited room that HTC designers had to fit the hardware components into, they must have been hard-pressed to stick to traditional design. Whatever the reason, the handset looks overwhelmingly... rectangular.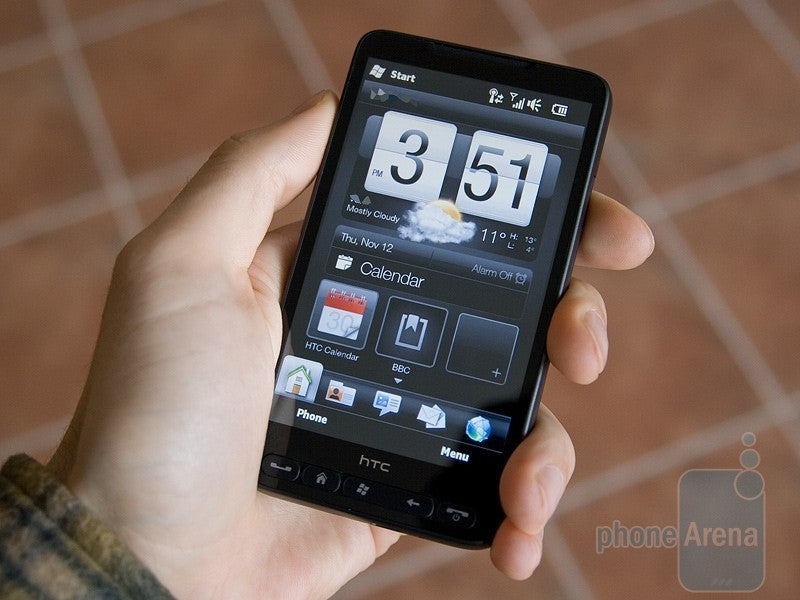 What we are really shaken at is... the interface. It´s not like we haven´t seen it before, it´s just using it with a capacitive screen is completely different kettle of fish. In reality, HTC Sense for Windows Mobile is just a jazzed up version of the TouchFLO 3D and the most significant novelty feature is the social network integration. You can enter your Facebook, YouTube and Twitter account details on powering the device and get in the loop on anything that relates to your virtual alter-ego right away.
We can go on with more and more details on the smoking hot HTC HD2, but we better get back to the review, it´s coming really soon, so stick around!