Hands-on with Sony Ericsson K850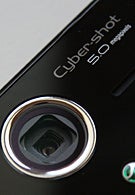 This is the phone we've been craving for since the release of the Nokia N95. After the successful K800, which scored the first place in the 3-megapixel cameraphone battle last year, we were expecting an upgraded model from the manufacturer and the slightly redesigned K810 was not what we wanted to see. The K850 comes as the real refreshment in the line, featuring 5-megapixel camera with integrated lens cover, Xenon flash and additional one for assisting the focus. Add the upgraded interface and we have the top model of the new generation Sony Ericsson phones.
Expect our Sony Ericsson K850 Review soon.