Hands-on with HDR photos on the Apple iPhone 4
37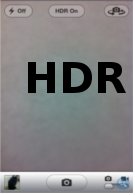 update for iOS 4.1
, HDR photos are basically created by combining three sets of images – one with highlights, shadows, and mid-ranges. When combined together, they're alleged to produce some of the most stunning looking images which optimizes the white balance of the shot; thus producing richer looking images. Naturally, we had to check out this new feature for ourselves to better gauge whether or not the handset will actually substantially make good looking photos even better.
Now the nice thing about shooting HDR photos on the iPhone 4 is that both the original and HDR images are saved together so you can instantly compare the two. If you happen to be taking shots where the situation requires you to use the flash, HDR will automatically be turned off. Nonetheless, we decided to take some sample shots in various conditions to see for ourselves if the images taken in HDR would produce a considerable improvement in quality.
In the short time we were checking out the feature, HDR photos can either be a hit or miss thing – meaning that in some cases we did see some improvements, while in others, not so much. In sunny outdoor settings, we found that colors looked more saturated versus the ones produced by the HDR image. As you can see below in one of the images, we actually prefer the richer looking colors of the red cars as opposed to the lighter shades in the HDR image. Upon looking at the grass in another shot, we again see that the HDR image brightened up the shot which made the grass look a lot lighter in tone. However, in our hands-on video, we did find some improvements with an image taken up close as it was able to meticulously display more detail over the regular image. Again, we see it work rather well indoors in another image below where you can distinctly see the prices of some items. When you look closely at the original, the prices on some of the tags are totally indistinguishable – making the HDR image look a lot more appealing.
Though, we did run into something surprising as we transferred photos from the iPhone 4 to our computer. For some odd reason, some HDR images were extremely large in size – in fact, they were over 50MB in size! Regardless, the HDR feature on the iPhone 4 will attempt to clean up images the best it can, but after experiencing it first hand, it may or may not show some considerable improvements.
Apple iPhone 4 Specifications
|
Review